U.S. ELECTION WRAP: FBI, House GOP Spar on Clinton E-Mail Probe
By and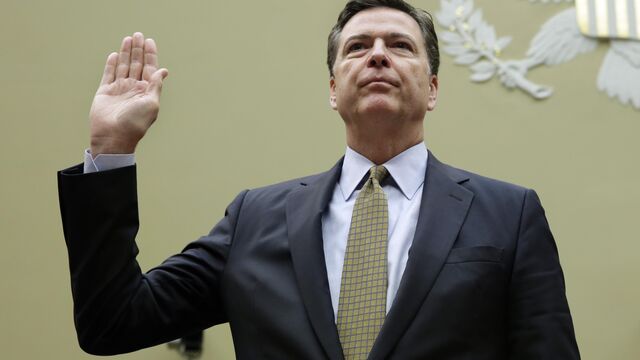 FBI Director James Comey stood his ground while testifying in front of a House panel on his decision to not press charges over Hillary Clinton's use of a private e-mail server -- but his testimony added plenty of fuel to the GOP's anti-Clinton fire.
At the hearing's start, House Oversight and Govt Reform Cmte Chairman Jason Chaffetz told Comey he was "mystified and confused by the fact pattern that you laid out and the conclusion that you reached," Bloomberg's Chris Strohm reports

"It seems to a lot of us that the average Joe, the average American, that if they had done what you laid out in your statement that they'd be in handcuffs and they might be on their way to jail and they probably should": Chaffetz

The hearing provided Republicans plenty of sound bites with which to batter the Clinton campaign, with RNC spokesman Michael C. Short quickly posting a video compiling the most damning Comey statements about Clinton's actions
Democrats on the panel criticized the hearing as political theater, with Rep. Elijah Cummings saying Republicans turned against Comey after he released the FBI's findings

"In their eyes you had one job and one job only -- to prosecute" Clinton, said Cummings, the panel's top Democrat

Though Comey said there was "no basis" to conclude Clinton lied to the FBI, the GOP will likely make good use of his testimony in the presidential campaign

The Trump campaign used the occasion as an opportunity to raise money, sending an e-mail to supporters even as Comey was testifying

House Speaker Paul Ryan has asked National Intelligence Director James Clapper to deny Clinton access to classified information in the wake of Comey's finding that she was "extremely careless" in her handling of e-mail as secretary of state
Click here to subscribe to the U.S. Election Wrap

ON THE TRAIL
Trump met separately with House and Senate Republicans today on Capitol Hill

Daughter Ivanka and son-in-law Jared Kushner also attended
Ryan called the gathering in his chamber a "great meeting" and said Trump spoke about his desire to unify the GOP, Bloomberg's Billy House and Bradley Saacks report
Rep. Joe Barton of Texas said the House meeting "was more like a family reunion"
Trump's Senate meeting, on the other hand, was tense, the Washington Post reports
Trump called out Sens. Jeff Flake, Mark Kirk and Ben Sasse for criticizing his candidacy
Trump tweeted that both meetings were "great," saying "these are people who love our country"

Clinton will campaign with Sen. Tim Kaine -- a possible VP pick -- in his home state of Va. July 14, according to her campaign
The first and third presidential debates will consist of six segments of 15 min. per topic, while the second debate will be a town hall, the Commission on Presidential Debates has announced

Debates will take place in Dayton, Ohio, on Sept. 26, St. Louis, Mo., on Oct. 9, Las Vegas, Nev., on Oct. 19
Vice presidential debate on Oct. 4 in Farmville, Va., will consist of nine segments of 10 min. each

VEEPSTAKES
Clinton is thinking of announcing her VP pick immediately following the GOP convention on July 21, CNN reports

Campaign is waiting to hear Trump's selection, CNN says
Clinton has narrowed her options down to five and is very involved in day-to-day elements of the search, CNN says

Chances are low that Clinton will pick Labor Sec. Thomas Perez, HUD Sec. Julian Castro, Joel K. Goldstein writes for Sabato's Crystal Ball

Noting recurring patterns in VP selections, Goldstein, a Saint Louis University law prof., also sees a low likelihood Trump selects Sen. Tom Cotton or Ark. or Gov. Jan Brewer of Ariz.

Sen. Rick Santorum of Pa. is Trump's "logical running mate," Bloomberg View's Ramesh Ponnuru writes

Ponnuru argues Santorum falls closer to Trump's stances on immigration, trade policy than VP contenders Newt Gingrich and N.J. Gov. Chris Christie

POLLS
A Pew Research Center poll conducted June 15-26 shows 51% of registered voters support Clinton, 42% back Trump

With Libertarian candidate Gary Johnson in the mix, results are 45% for Clinton, 36% for Trump, 11% for Johnson

Most Calif. Democrats want Sen. Bernie Sanders to step aside and support Clinton, a Field Research poll finds

53% of those surveyed want Sanders to end his campaign, while 38% say he should continue through the Democratic convention in late July
Poll also finds 58% of Californians prefer Clinton, 28% Trump

ADVERTISING
Clinton released an ad contrasting her foreign policy with Trump's

Ad first aired in Colo., a swing state

Priorities USA Action, a super-PAC backing Clinton, is airing an anti-Trump ad featuring veterans

Ad first aired in Norfolk, Va., which has a large concentration of vets and is located in a swing state

The Democratic Congressional Campaign Cmte will spend over $1m on ads tying GOP opponents to Trump, NY Times reports

ENDORSEMENTS/NONENDORSEMENTS
Sen. Ted Cruz doesn't plan to endorse Trump, spokeswoman Catherine Frazier says in a release

Cruz does intent to speak at the Republican convention at Trump's request, Frazier says

Sanders, in an interview with PBS, said he will do everything possible to help elect Clinton

"At the end of the day, we're going to be united," Sanders told Charlie Rose
Campaigns are working together and discussing an endorsement, Sanders said

ETC
Trump won't definitively say he'll serve as president if elected, when asked by the New York Times

"I'll let you know how I feel about it after it happens," Trump said

A majority of GOP's 54 senators will attend the Republican convention, the Hill reports

Hill survey found 32 GOP senators plan to attend, 15 plan to skip, others not accounted for
Only two senators facing competitive races, Ohio's Rob Portman and N.C.'s Richard Burr, will attend

Trump and Clinton "appear to agree" on some health-care issues, Height analysts write
Click here to subscribe to the U.S. Election Wrap

CONGRESSIONAL
IL-SEN: Trump "denounced" GOP Sen. Mark Kirk at the meeting with GOP senators on Capitol Hill, New York Times reported

"I guess he lit me up," Kirk said, according to Bloomberg's Steven Dennis
Kirk, who didn't attend meeting, previously withdrew endorsement of Trump as he seeks re-election in Democratic-leaning state
His Democratic opponent, Rep. Tammy Duckworth, has $5.5m cash-on-hand after raising $2.7m in Q2, according to campaign release

NH-SEN: GOP Sen. Kelly Ayotte has $7m cash-on-hand after raising $2.5m in Q2, according to campaign release

Democratic Gov. Maggie Hassan, who's running against Ayotte, raised more than $3.2m in Q2, her campaign announced

OH-SEN: TV ad shows man riding a Segway on Wall Street and saying GOP Sen. Rob Portman perhaps should be "running for senator of Wall Street, not Ohio," because he supported Social Security "privatization" plan

Spot refers to Portman's support for George W. Bush administration proposal to allow individuals to manage some payroll tax money in private accounts
Ad references Portman's >$2.9m in career campaign contributions from securities/investment industry
Ad paid for by Senate Majority PAC, Democratic super-PAC run by political advisers to retiring Minority Leader Harry Reid that supports ex-Gov. Ted Strickland in race against Portman
Strickland released plan calling for national infrastructure bank that would provide low-interest loans to help states/localities upgrade roads, bridges, broadband internet, water projects

PA-SEN: Republican Sen. Pat Toomey raised $3.1m in Q2, his campaign announced
GA-03: American Dental Assn reported $36k in independent expenditures aiding Republican dentist Drew Ferguson, according to FEC filing

Winner of July 26 runoff between Ferguson and state Sen. Mike Crane in western Ga. district strongly favored to succeed GOP Rep. Lynn Westmoreland, who's retiring

FL-18: Democratic businessman Randy Perkins released TV ad calling attention to algae blooms plaguing Fla. beaches

"This will no longer be the Treasure Coast unless we solve this problem," said Perkins, who's running for southeastern Fla. seat Rep. Patrick Murphy is giving up for Senate run
Ad first aired on broadcast TV today in West Palm Beach market, according to Kantar Media's CMAG

KS-01: GOP Rep. Tim Huelskamp's campaign aired TV ad saying physician Roger Marshall "supports pro-abortion groups" and "will raise your taxes"

Huelskamp's ad shows footage of Marshall from debate last month saying that he supports "some type of sales tax on Internet sales"; Marshall also called for reducing corporate tax rate and simplifying code to three individual brackets
Marshall has said he's anti-abortion
Ad shows footage of Huelskamp saying he's "100% pro-life" and has "never voted for a tax increase"

TN-04: Republican Grant Starrett's campaign released TV ad accusing GOP Rep. Scott DesJarlais of voting for "$700 billion in Obama's food stamps," and supporting "Obama's military cuts"

Starrett's first claim cites June 2013 vote on farm and food-aid bill that failed in House
Ad also cites DesJarlais's votes in April 2015 for three amendments that would have prevented tapping Overseas Contigency Operations account for non-emergency military needs
Starrett, lawyer and conservative activist, challenging DesJarlais in Aug. 4 primary in GOP-friendly south-central district that includes Murfreesboro

UT-04: League of Conservation Voters's political arm endorsed Democrat Doug Owens against Republican Rep. Mia Love, according to release

Rematch of 2014 election Love won 50%-47%
Click here to subscribe to the U.S. Election Wrap
Before it's here, it's on the Bloomberg Terminal.
LEARN MORE