U.K. Property Outlook Worsens as Barclays Cuts Homebuilders
By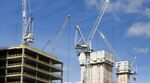 The outlook for the U.K. property market is getting a whole lot worse.
Barclays Plc cut its homebuilder ratings and London investor Great Portland Estates Plc warned about weakening office markets in the U.K. capital on Thursday as Britain's economic prospects worsen following the vote to leave the European Union.
"Recent events have spooked markets -- with good reason," Barclays analyst Jon Bell said in a research note on Thursday in which he downgraded U.K. homebuilders to hold from buy. "Though we are cautiously optimistic, believing a policy response is likely, recent events lead us to lower our industry view."
The U.K.'s vote on June 23 to leave the European Union has battered the shares of real estate companies with significant business in London, as investors fret about future demand for property by commercial and residential tenants and buyers. The FTSE 350 Real Estate Investment Trust has fallen 19 percent since the vote and the Bloomberg U.K. Homebuilder Index has slumped 35 percent.
"In the near-term, we expect confidence to reduce and some business investment decisions to be deferred whilst negotiations to establish our trading arrangements with the E.U. are undertaken," Great Portland said. "As a result, we can expect London's commercial property markets to weaken during this period of uncertainty."
Bovis Homes Group Plc, a homebuilder with a focus on southern England, said it's too early to say how the Brexit decision will affect its business. The company said on Thursday that its activity was in line with expectations in the first half, after it delivered 1,601 new homes, which is about 5 percent more than a year earlier.
"Housing market fundamentals remain strong with high demand from home buyers," Bovis said.
Investors' assessment of the risk to Bovis -- whose stock has fallen 36 percent since the day of the vote -- may be overblown, Jefferies Group LLC analysts Anthony Codling and Sam Cullen wrote in a report.
"We appreciate that the future remains uncertain, but such moves are certainly preparing for a rather bleak future," they wrote. "There seems to us to have been a blanket and rather indiscriminatory de-rating."
Before it's here, it's on the Bloomberg Terminal.
LEARN MORE