A Look Inside the Complex Web of UK Property Funds
M&G Investments and Standard Life, two asset managers that froze redemptions in U.K. real estate funds this week, are also investors in property funds.
By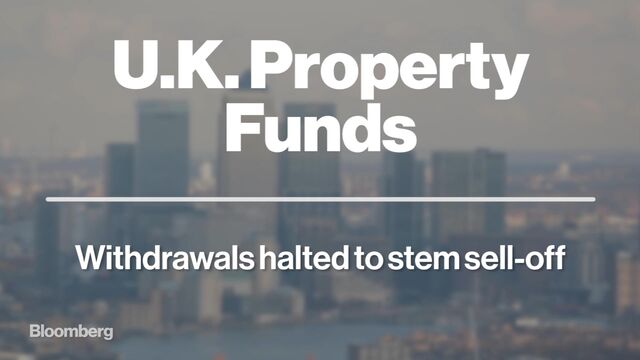 M&G Investments and Standard Life Investments just got a taste of their own medicine, and it's bitter.
The two firms — large asset managers in London and Edinburgh — were among seven that this week froze withdrawals from real estate funds with about 18 billion pounds ($23.5 billion) of assets as investors sought to dump property investments following Britain's vote to leave the European Union.
It turns out they're also investors in some of the gated funds, according to Bloomberg data.
Dig into who's invested in the frozen property funds and you'll find the usual real money accounts, from HSBC Global Asset Management to Baring Asset Management Ltd., that have been boosting exposures to real assets as bond yields and interest rates trend lower.
You'll also see M&G owns more than 2 million shares in Aviva's suspended fund, while Standard Life holds about 2.4 million shares in M&G's fund, according to data compiled by Bloomberg based on fund filings.

Investors are pulling money from U.K. property funds as analysts warn that London office values could fall by as much as 20 percent within three years of the country leaving the EU. This run on the funds shows how the cost of Brexit is spreading, and also highlights the vulnerability of funds that offer daily redemptions while investing in illiquid assets.
The funds allow investors to withdraw their money on a daily basis, yet the properties backing them, which include offices to warehouses, can take months to sell.

The fund suspensions have spooked markets and already drawn analogies with the run-up to the 2008 financial crisis when funds at Bear Stearns Cos. and BNP Paribas SA halted redemptions. The cross-contamination of gated property funds could throw up another level of unwelcome complexity.