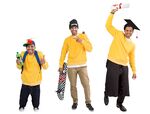 Tom Cridland had no design training or business experience when he got a roughly £6,000 ($8,000) startup loan from the British government in 2014. "I wanted to create a direct-to-consumer menswear brand that wasn't like those fast-fashion places," he says. His eponymous line of preppy chinos drew celebrity fans such as Daniel Craig and Leonardo DiCaprio, but Cridland wasn't able to manufacture them as eco-responsibly as he liked. "Fashion is not sustainable," he says. "It's the second-most polluting industry after oil."
Cridland's solution is what he calls the 30-Year Sweatshirt. It's a classic crewneck that's available in nine colors and comes with an unusual warranty: free repairs on any rips or frays for the next three decades. (So if you buy one today, you're good until 2046.) Postage is covered, too. The sweatshirts are about $85, and they're engineered to last. The fabric is knitted with the traditional loopback method—it uses more yarn per square inch than standard techniques to deter pilling—and is given a proprietary silicone treatment to keep the garment from shrinking. As for stains, "we don't guarantee against them," Cridland says, "but if you spill some Bolognese sauce on it, you're welcome to send it back to us."

Cridland tapped into a broader trend of companies staking their reputations on the idea that clothing should be built to last—and last and last. They're mostly denim brands, though, that sell clothing slightly less likely to absorb your full Bolognese splatter. Welsh denim retailer Hiut sells jeans starting at about $166, with free repairs for life. It receives about 20 returns a week. Swedish rival Nudie offers a similar service, having converted most stores to specialty repair shops for gratis on-site mending.
Cridland has sold 8,000 sweatshirts in a year and has expanded his line. Now there are poly-cotton blend 30-Year T-shirts (T-shirts!) for $46 and two-button sport coats from $330. This fall, he's introducing a 30-Year Christmas Sweater, though if you wear it just once a holiday season, it could probably last 20 times as long.
Before it's here, it's on the Bloomberg Terminal.
LEARN MORE