The Europe Stock Valuation Metric JPMorgan Says Flashes Buy
by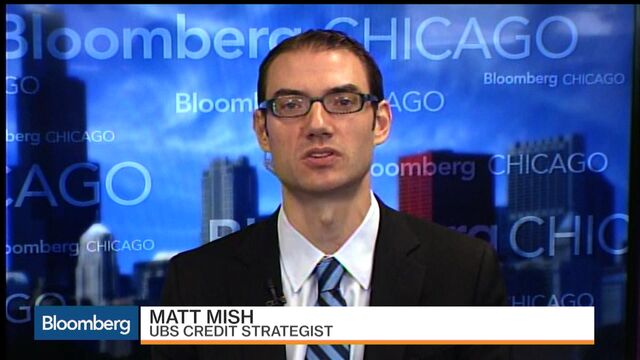 Getting hung up on Brexit will cause you to miss out on a European stock market that has gotten too cheap to resist.
That's the message from JPMorgan Asset Management, which says valuations on the MSCI Europe ex-UK Index and the FTSE All-Share Index look attractive when their price-earnings ratios are adjusted for inflation over the past 10 years. Viewed like that, equities are a buy, with multiples below their long-term averages, said Stephen Macklow-Smith, head of European equity strategy at the $1.7 trillion asset manager.
While acknowledging the Brexit fallout remains unknown, Macklow-Smith said Europe's recovery is still young and looks durable. A continued decline in the euro area's unemployment rate -- now at its lowest since 2011 -- and an improvement in consumer confidence should buoy earnings growth, he said. In the U.K., he expects exporters to remain favorites thanks to the pound trading near levels not seen since 1985.
"In the short term, we can see nothing that suggests the referendum result will rock European confidence and growth particularly," Macklow-Smith said by phone from London. "If in Europe the show stays on the road and we don't get renewed concerns about the integrity of the euro zone, some drivers within the economy can come through and improve earnings -- and there is more to go for."
After the U.K. referendum, both the European Central Bank and Bank of England pledged to provide liquidity to keep financial markets running. The economy in the euro area is forecast to grow 1.5 percent this year, with gross domestic product in countries such as Spain and Germany rising more than 1.6 percent.
JPMorgan Chase & Co. kept its neutral rating on euro-area equities following the vote and turned bullish on U.K. stocks back in February, after being underweight the shares for three years. Adjusted for inflation, the MSCI Europe ex-UK Index traded at 15 times earnings at the end of June, compared with a long-term average of 19.4 since the 1980s, the U.S. bank said. The FTSE All-Share Index's valuation was at 12.3, versus a mean of 17. The European gauge rose on Friday, while the British measure was little changed.

Compared with cash and sovereign bonds, equities look attractive, Macklow-Smith said. The dividend yield of 4.3 percent that Euro Stoxx 50 Index companies offer compares with about 0.25 percent for government debt, according to the average for securities included in the Bloomberg Eurozone Sovereign Bond Index.
While analysts expect a contraction in earnings at Euro Stoxx 50 members this year, Macklow-Smith sees potential in more domestically focused sectors such as consumer-discretionary and retail companies. In addition, he noted, if oil holds where it is, the downward pressure on profit growth coming from the energy sector will disappear.
"It's a struggle to recapture investor interest, and part of that is that earnings have been moribund for the past five or six years," Macklow-Smith said. "But when you factor out the investment cycle, we are actually in buy territory. Yes, there are risks about investing in Europe, but at some point that is implicit in the valuation."
Before it's here, it's on the Bloomberg Terminal.
LEARN MORE