The Apple-Samsung Rivalry, in Three Simple Charts
By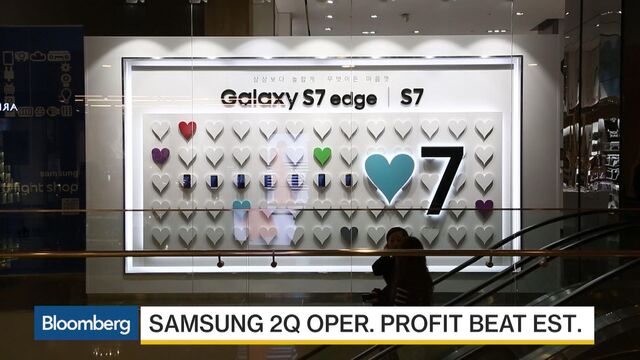 Samsung Electronics Co. reported its biggest operating profit in more than two years as its signature Galaxy S7 smartphone line sustains its critical and commercial success. That quarterly blow-out highlights how the South Korean company has begun to outshine Apple Inc. in everything from market performance to top-line growth.
Here're three charts that illustrate their increasingly divergent paths.
1. The stocks
Samsung's shares have embarked on an upswing since the start of the year, buoyed by optimism over the S7 and component divisions like displays. Apple's stock, on the other hand, has slumped as doubts persist about its business in China and ability to re-capture a once-sizzling pace of growth.

2. Samsung's growth
Asia's largest technology company has perennially lagged behind its U.S. foe in revenue expansion -- until now. The well-received Galaxy S7 has been crucial to galvanizing the company.

3. Product launches
Samsung is right now benefiting from a lull cycle for the iPhone, the latest iterations of which typically hit store shelves just before the holiday shopping season. Samsung prefers to roll out its top-of-the-line S models at the start of the year. The different timelines mean Samsung's earnings often peak around the middle of the year, just as Apple's is bottoming, and vice versa.