Taiwan Shuts Eastern Counties Early as Typhoon Approaches
By
Airlines canceled some Taiwan flights through Friday

Taipei to announce by Thursday evening if offices to close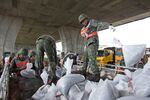 Taiwan directed schools and offices along its eastern coast to close early Thursday as Typhoon Nepartak threatened to unleash strong winds and heavy rain across the island through Friday. Airlines canceled or rerouted flights.
The first typhoon to form in the northwest Pacific Ocean this year recorded sustained winds of 198 kilometers an hour (123 miles per hour), gusting to 245 kilometers an hour, the Central Weather Bureau said. As of 4:15 p.m., the storm was 300 kilometers off the coast of eastern Taiwan's Hualien. Wind and rain are expected across the whole island through Friday, the agency said.

Schools and government offices in Hualien and Taitung were closed from 4 p.m., the Directorate-General of Personnel Administration said in a statement posted on its website. The capital city of Taipei said it would announce any Friday closures before 10 p.m. local time. Financial markets won't open if Taipei offices are closed, the Taiwan Stock Exchange and Taipei Exchange said.
Strong winds are likely to lash the island in the early morning, Wu Wan-hua of the Central Weather Bureau said in a broadcast shown on cable news channels.
Cathay Pacific Airways Ltd. canceled or rerouted 41 Taiwan flights scheduled on Thursday and Friday. Taiwan's largest carrier China Airlines Ltd. canceled flights into or out of southern Taiwan's Kaohsiung between 7 p.m. Thursday and before 2 p.m. Friday. High speed rail service will be suspended Friday until 5 p.m.
In China, the meteorological administration forecast Nepartak to make landfall Saturday morning on the coast of Fujian province in the southeastern part of the country, which has experienced severe flooding after days of record rainfall. The agency initiated an emergency response July 6 after severe flooding killed at least 186 people, paralyzed major cities and halted cross-country transportation networks.
The typhoon could add to the region's troubles: Fujian and Zhejiang provinces will see as much as 40 centimeters (16 inches) of rain in the next few days, the agency forecasts.
The southeast coast "had heavy and continuous rainfall, so if this typhoon hits and brings heavy rain in a short period, it will put pressure on flood control efforts." Qin Chuanhai, director of China's Typhoon and Marine Weather Forecast Center, told state television.
Premier Li Keqiang visited the flooded region this week, telling local officials to be thoroughly prepared as "the most difficult period still lies ahead." President Xi Jinping on Wednesday called on the military to "stand at the forefront of flood control efforts."
Thirty-two highways were partially closed Thursday due to flooding or landslides, the government's China Central Television reported, and overnight rains forced the closing of two main subway lines in Nanjing.