South Africa Could Hold Off on More Rate Increases, IMF Says
by
Weak economy should keep inflation contained, lender says

Market has mostly priced in a credit-rating downgrade to junk
South Africa's Reserve Bank could hold off raising interest rates further as inflation expectations are well-anchored and economic growth remains weak, the International Monetary Fund said.
The central bank doesn't have to increase borrowing costs "unless core inflation or inflation expectations rise," the Washington-based lender said in a report released on Thursday. "The impact of past policy hikes is still filtering through, and the weak economy should keep inflation contained."
The Monetary Policy Committee has raised its benchmark repurchase rate by 125 basis points since last July to 7 percent as it sought to steer price growth back into its 3 percent to 6 percent target band. While inflation slowed to 6.1 percent in May, it will only return to the target by the third quarter of 2017, according to the Reserve Bank. Policy makers remain concerned about rising inflation expectations, Deputy Governor Daniel Mminele said on Wednesday.
While inflation will remain elevated due to the base effects of fuel prices, higher food costs and currency weakness, it will remain contained, the IMF said. Price growth will probably peak at around 7 percent in the fourth quarter of this year and ease to 5.6 percent by the end of 2017, the lender said.
Growth Slowing
The IMF cut its economic growth forecast for South Africa for the third time this year and now projects expansion of 0.1 percent compared with 0.6 percent forecast in April. The lender projects 1.1 percent growth for 2017. The central bank reduced its 2016 growth forecast to 0.6 percent from 0.8 percent in May, and the government said in February gross domestic product will expand by 0.9 percent.
"In our projections we don't have a recession, we have an improvement in growth starting from the second quarter of this year," Laura Papi, the IMF's mission chief for South Africa, told reporters in a conference call on Thursday. "The risks of a recession are obviously significant, because we are very close to zero already in our forecast and you could have another quarter of negative growth."
GDP contracted by 1.2 percent in the three months through March as farming and mining output slumped due to low commodity prices and the worst drought in more than a century. The last time the economy was in recession was 2009.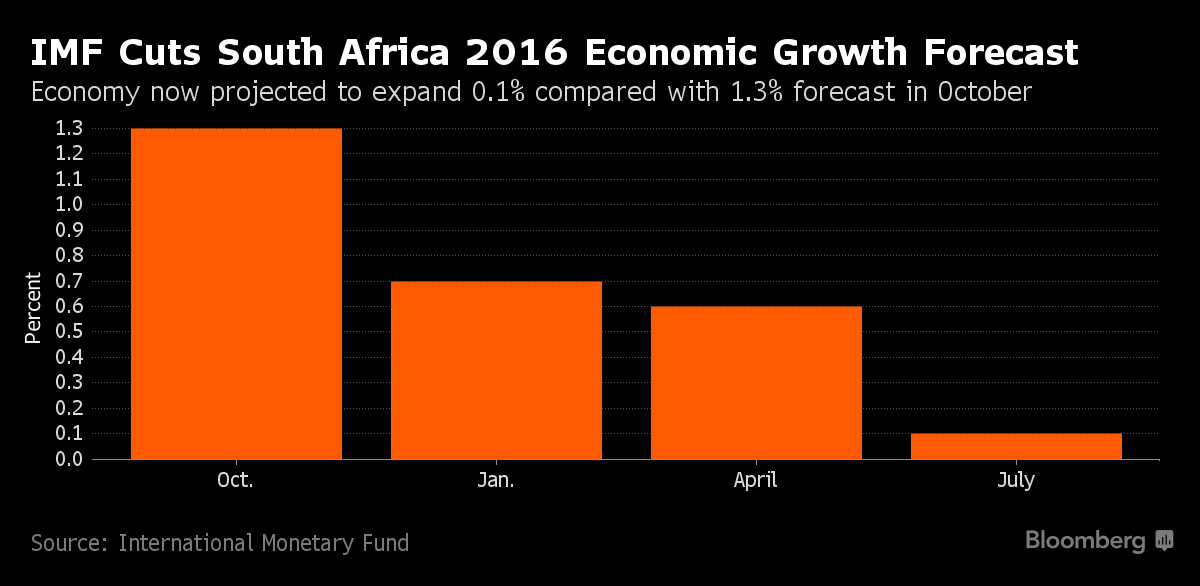 "While cutting interest rates would be unlikely to boost growth as policy uncertainty and reduced investor confidence will likely constrain private spending, additional monetary tightening would further depress growth," the IMF said in its report.
The Reserve Bank will announce its next interest-rate decision on July 21.
In his February budget, Finance Minister Pravin Gordhan pledged to narrow the fiscal deficit and limit gross debt to 50.5 percent of GDP by 2019 by curbing spending and raising taxes. These targets could be challenging to achieve if its growth projections materialize, the IMF said. Gross debt will probably increase to 52.6 percent of GDP in 2017, the lender said.
"National Treasury forecast is more positive compared to the IMF," the Treasury said in an e-mailed statement. "In the immediate term, we expect growth and employment to be supported by several structural reforms and targeted government interventions."
Credit Rating
S&P Global Ratings kept South Africa's credit assessment at BBB-, one level above junk, on June 3 and warned it could cut the nation's debt evaluation unless more is done to foster growth and combat political and labor instability. Fitch Ratings Ltd. also kept its evaluation of South Africa's debt at one level above junk last month and Moody's Investors Service left the nation at two levels above non-investment grade in May. S&P is due to announce its next rating assessment in December.
The market appears to have mostly priced in a credit-rating downgrade to junk, the IMF said. The impact of a downgrade will be mitigated by the government's low level of foreign-currency debt, it said.
While South Africa's external competitiveness remains a concern, the flexible exchange rate is a positive, the IMF said. The Reserve Bank should use opportunities to increase its foreign reserves, the lender said. Gross reserves were $46.4 billion last month.
The rand strengthened by 0.5 percent to 14.6680 per dollar at 4:20 p.m. in Johannesburg on Thursday. Yields on rand-denominated government bonds due December 2026 fell six basis points to 8.75 percent.
Before it's here, it's on the Bloomberg Terminal.
LEARN MORE