Populist Politicians Take On Italy's Massive Debt Pile
Unpaid bills stoke frustration over the country's old guard.
By and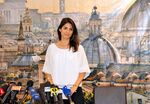 The Rome Olympics of 1960 marked the rebound of the Italian capital after years of war and reconstruction, an affirmation of the country's renaissance and the city's emergence as a symbol of dolce vita insouciance. Rome is still paying the bill, and the new mayor, Virginia Raggi, is sick of it.
The city has roughly €13.6 billion ($15.2 billion) in debt and more than 12,000 creditors—though the pile is so complex no one really knows how much is owed to whom. Rome faces outstanding bills for operating its 61-year-old metro system, hauling trash, and running a network of unprofitable pharmacies that compete with private shops. The courts are grappling with hundreds of lawsuits over unpaid debts going back 50 years for land expropriated to build hospitals, streets, and other city projects—including some debts connected to the 1960 games, former Mayor Ignazio Marino has said. The average interest rate: 5 percent, at a time when the Italian government is issuing 10-year bonds at 1.5 percent annually. "We can't keep paying such high interest just because nobody bothered to renegotiate the debt," Raggi, who was elected on June 19, told the RAI television network.

Raggi, a 37-year-old lawyer and Rome's first female mayor, has ridden a wave of frustration with Italy's old guard—especially its handling of the economy—to one of the country's most powerful political jobs. Her rise mirrors the growing strength of her party, the Five Star Movement, founded in 2009 by Beppe Grillo, a scruffy, bearded comedian who got his start on variety shows in the 1970s but was later banned from public television for his biting political satire. Five Star (the stars are meant to represent water, environment, transport, development, and energy, though the party mostly focuses on fighting corruption and cutting regulations) has grown into a formidable rival to the Democratic Party of Prime Minister Matteo Renzi. Its biggest names—Grillo, Raggi, and Chiara Appendino, a 32-year-old businesswoman just elected mayor of Turin—have won support from across the political spectrum with their portrayal of the establishment as greedy buffoons unprepared to deal with the country's problems. Renzi's "life of privilege with public money," Grillo writes on his blog, "is an insult to those who can barely make ends meet."
Five Star's leaders have used debt as an issue that sets their party apart from Renzi's. The movement says banks and special interest groups encouraged governments at the national and municipal levels to borrow beyond their means. At one point Raggi even hinted some of the debt shouldn't be paid—echoing Grillo's contention that the pile of loans is "immoral"—but she quickly backtracked after rivals accused her of scaring off investors.
Renzi says he doesn't believe in austerity measures that might stifle growth but that he's committed to reducing the national debt by trimming bloated budgets. And while he hasn't said he'll seek to renegotiate the debt, he's obtained a partial waiver from European Union restrictions on deficit spending to free up money for security, infrastructure investment, and support for the unemployed. Nonetheless, efforts to tackle the debt have been hobbled by lackluster expansion. The gross domestic product is forecast to grow 1.1 percent this year, vs. 1.6 percent for the euro area, the European Commission forecasts.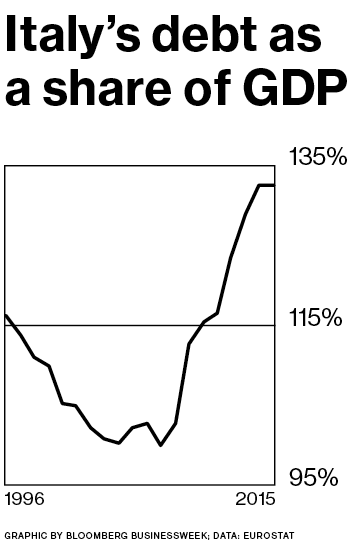 Few would argue that Italy doesn't desperately need a solution to its debt woes. The country owes creditors €2.2 trillion, or more than 130 percent of GDP—a ratio higher than any EU country's other than Greece. High taxes aimed at paying down the debt stifle growth, which reduces the government's ability to fund new programs. At the same time, Italy's banks hold more of their country's sovereign debt than lenders in any other euro area nation, and they're burdened with €360 billion in bad loans, more than a quarter of the total held by euro area financial institutions. Government attempts to load these assets into a "bad bank" have foundered because of European rules against state aid to banks. As a result some institutions could face insolvency. The nonperforming loans and the level of public debt held by banks make their "overall position very precarious," says Marc Ostwald, a strategist at ADM Investor Services International. The nonperforming loans could devastate banks' balance sheets, and the heavy exposure to government debt could trigger heavy losses.
Before Raggi, a government-appointed commissioner ran Rome for nine months. Marino, from Renzi's Democratic Party, had been forced out over a scandal that included allegedly billing the city for a dinner with the Vietnamese ambassador that never took place. His downfall and Renzi's inability to counter Raggi with a convincing candidate portend growing problems for the ruling party. A poll released in July by researcher Demos found that Five Star would win a majority in Parliament if elections were held today. Renzi's popularity will be tested in October, with a referendum he proposed on reducing the Senate's powers and streamlining the legislative process. If it fails, he's said he'll quit, leading to "months of political instability," says Giovanni Orsina, a government professor at Rome's Luiss-Guido Carli University. "That would make Italy a problem for Europe once again."
The bottom line: Italy's debt is spurring increasing frustration among voters, imperiling Prime Minister Renzi and benefiting the populist Five Star party.
Before it's here, it's on the Bloomberg Terminal.
LEARN MORE