Philippine Environment Chief Vows to Shutter Failed Miners
by and
Country supplies almost all of the nickel ore China imports

'I will not allow suffering,' says newly hired Gina Lopez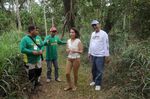 Miners in the Philippines will be shuttered this year if they fail environmental checks, according to the country's environment secretary who's spearheading tougher regulation of the resources sector.
Gina Lopez, hired by new President Rodrigo Duterte to clean up mining, announced the probe last week on assuming the post. The audit will be completed in three to four weeks and may result in mines being closed in the next six months, Lopez said in a Bloomberg interview.
"If they are killing our rivers, how can their business interest be more important than the lives of our people? I will not allow suffering," said Lopez, who has previously disclosed that she doesn't like mining. "The main thing is that whatever we do, the welfare of the people must be paramount."
The Philippines is the world's biggest source of mined nickel, and supplies almost all of the nickel ore imported by China and used to make stainless steel. Nickel surged about 8 percent in two days after Lopez announced the probe amid concerns that closures would cut supply and deepen an emerging global shortage. Nickel Asia Corp. and Global Ferronickel Holdings Inc., the nation's top two producers, say they operate according to the standards demanded by their new regulator.
Open-Pit Ban
The environment chief said Thursday she will oppose the Tampakan copper and gold mine project on Mindanao island in the south of the Philippines, which has been on hold because of a local government ban on open-pit mining.
"Open-pit mining? It's horrible," Lopez said. "Tampakan is on top of hundreds of hectares of agricultural land, the food basket of Mindanao, and you want to put a 700-hectare open-pit mine? I don't care how much money they give us. It's not worth it. Who is making the money here and who is taking the risk?"
Mining has been halted in other areas too. Operations in Zambales province, in the north of the Philippines, have been suspended by the local government because of "complaints on environmental degradation," according to Mines & Geosciences Bureau Director Leo Jasareno. The Supreme Court separately issued a stop order against mining companies in the province in June.
Fiery Campaign
Duterte was sworn in last month after a fiery campaign including pledges to crush crime, fight corruption, and halt environmental abuses. The country also has significant resources of gold, copper and other minerals.
The worst hit by the measures will be nickel miners because "increased costs from compliance to environmental regulation will be exacerbated by the current low nickel prices and the probable re-entry of Indonesian nickel ore into the global market," analysts from BMI Research said in a note Thursday. Indonesia banned exports of raw materials from the start of 2014, handing the Philippines a bigger role in supply of the material.
Chinese imports of nickel ore from the Philippines were already set to drop this year before the crackdown, according to Ding Zhiqiang, an analyst at Baosteel Resources Ltd., a unit of Shanghai Baosteel Group. Cost issues and loading disruptions because of the weather mean shipments could drop more than 20 percent from 2015, Ding said at a conference in Shanghai on Friday.
Nickel on the London Metal Exchange is up 9.4 percent this year but is less than a fifth of its record in 2007, as consumers work through high inventories. There will be no substantial price increases while stockpiles stay high and commodity markets depressed, Dmitry Kuznetsov, overseas marketing manager at GMK Norilsk Nickel PJSC, said last month. Citigroup Inc. forecasts nickel sliding to $8,500 a metric ton this year, which compares with $9,645 on Friday.
Before it's here, it's on the Bloomberg Terminal.
LEARN MORE