Pepsico Jumps After Raising Forecast on North America Sales Gain
by
Soda maker's second-quarter profit beats analysts' estimates

Company benefiting from relative strength of the U.S. market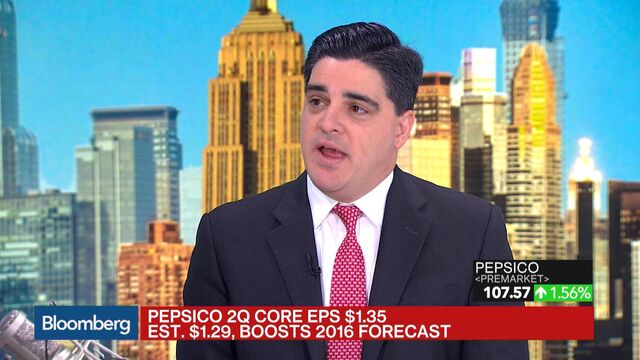 PepsiCo Inc. surged after second-quarter profit beat analysts' estimates and the company boosted its full-year forecast, helped by rising sales of snacks and soft drinks in North America.
The shares climbed as much as 2.9 percent to $109 in New York, the biggest intraday gain since Oct. 22. The stock already had advanced 6 percent this year through Wednesday.
Chief Executive Officer Indra Nooyi has benefited from the relative strength of the U.S. market, where new products like juices and flavored waters are gaining traction, as well as cost-cutting measures that have supported profitability. She also has worked to expand PepsiCo's presence in emerging countries, but the shaky global economy and stronger dollar have hurt results in those regions.
"What's really working for us more than anything is all of the innovation that we're doing," combined with the productivity measures the company has taken, Chief Financial Officer Hugh Johnston said in an interview.
Earnings rose to $1.35 a share, excluding some items, the Purchase, New York-based company said in a statement Thursday. Analysts estimated $1.29, on average. PepsiCo boosted its forecast for annual earnings growth to 9 percent from 8 percent.
Sales in PepsiCo's Frito-Lay North America unit rose 3.2 percent to $3.56 billion, and revenue in the North America Beverages division climbed 0.6 percent to $5.15 billion. The company said its Propel enhanced water brand and Naked Cold Pressed juices helped results, along with new, organic varieties of Tostitos chips.
Meeting Projections
While currency-driven declines in Latin America and the Europe and Sub-Saharan Africa division dragged down total revenue by 3.3 percent to $15.4 billion, that still met analysts' average projection.
PepsiCo has increased its "better-for-you" offerings in light of declining soda consumption in the U.S. and other markets. The company announced a partnership with smoothie maker BarFresh Food Group Inc. in October and introduced a line of healthy vending machines in December.
Diet Pepsi
The company also attempted to appease drinkers wary of the artificial sweetener aspartame by removing the substance from its flagship diet soda in August. Yet many Diet Pepsi drinkers were displeased with the new taste, and PepsiCo announced last week it will reintroduce an aspartame-sweetened version of the drink. That beverage will be called Diet Pepsi Classic Sweetener Blend and sold alongside the newer, sucralose-sweetened version. 
The chips and soda maker also faces challenges by way of legislation. Philadelphia became the first major U.S. city to pass a soft-drink tax last month. Since 2009, there have been about 40 attempts to enact a soda tax in cities across the U.S. Efforts in Philadelphia, and Berkeley, California, are the only ones that have passed.
Still, PepsiCo is flush with cash and looking to spend. The company is open to making acquisitions, but it hasn't found a company with the right fit, Nooyi said an an analyst conference in February. Chobani LLC turned down the company's attempt to buy it outright, instead looking for a minority investment. Had the deal worked out, it could have helped bolster growth in PepsiCo's Quaker Foods North America unit.
PepsiCo united its U.S. management structure in March, combining its domestic beverage and snack units under one leader, Al Carey. Merging the units' leadership reflects PepsiCo's dedication to remaining one company after activist investor Nelson Peltz previously called for the two divisions to be separated.
Before it's here, it's on the Bloomberg Terminal.
LEARN MORE