Mugabe's Party Says Western Embassies Back Zimbabwe Protests
by and
Traffic around Harare returns to normal a day after protests

Teachers' association says members stay away for two more days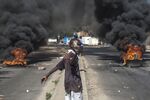 Zimbabwe President Robert Mugabe's ruling party accused western embassies of sponsoring Wednesday's strike by civil servants over the government's failure to pay salaries on time.
"We know they are being sponsored by the western embassies and some failed political parties," Ignatius Chombo, secretary for administration in the ruling Zimbabwe African National Union-Patriotic Front, told reporters late Wednesday in Harare, the capital.
Traffic was normal on roads leading into the capital early Thursday. More than 100 protesters are scheduled to appear in a magistrate's court on charges of involvement in public violence, police spokeswoman Charity Charamba told reporters. The Zimbabwe Teachers' Association, which called a three-day stayaway action, said that while some students were returning to schools, most of its members won't go to work.
"By and large most of our members are still on strike despite the intimidation and threats from the authorities," the association's secretary-general, John Mulilo, said by phone.
Pay Delays
Wednesday's labor action was called following the Finance Ministry's announcement that it was delaying pay for state workers, including the military, and riots on Monday sparked by protests by taxi drivers over alleged police harassment. Mugabe's administration has faced a worsening cash shortage in recent months.
Since abandoning its own currency in 2009 to end hyperinflation, Zimbabwe has used mainly U.S. dollars, as well as South African rand, euros, and British pounds. The government spends about 83 percent of its revenue on wages for state workers, according to Finance Minister Patrick Chinamasa.
The leader of an anti-government group known as #ThisFlag, Baptist pastor Evan Mawarire, threatened late Wednesday in a video on Facebook to call a strike for two days next week if the government fails to remove roadblocks that drivers say the police use to demand bribes; pay civil servants on time; take action against corrupt ministers; remove import controls; and rescind plans to introduce "bond notes"  in October to ease the cash crisis.
On Monday, Harare was hit by riots as minibus taxi operators staged demonstrations in suburbs around the capital to complain that police routinely demand money when they stop vehicles to check whether they are roadworthy. Violent clashes also erupted last weekend at Zimbabwe's main border post with South Africa, forcing its closure, when the government banned the import of certain goods.
Mawarire said that if the demands are not met, "we will be shutting down the country again on Wednesday 13 July and on Thursday 14 July." Corrupt ministers "must be fired, they must lose their jobs and face justice," he said.
Before it's here, it's on the Bloomberg Terminal.
LEARN MORE