S&P 500 Rallies on Jobs as Two-Year Treasuries Slump
by and
Stock index briefly tops May 2015 record close of 2,130.82

Futures now show 21% odds of December rate hike, up from 12%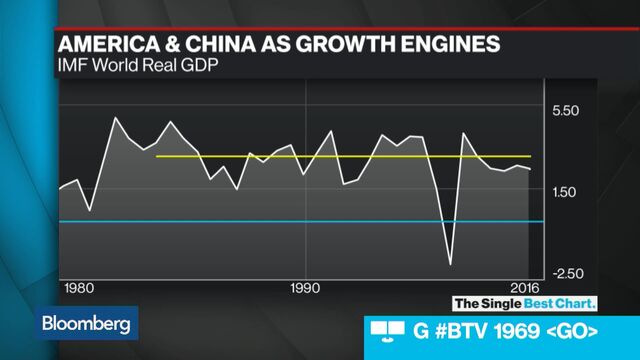 The S&P 500 Index and commodities rallied as two-year Treasuries slumped, after a surge in hiring alleviated concern about the strength of the world's largest economy.
The S&P 500 briefly surpassed the 2,130.82 record close it set last year, capping an eight-day rebound of more than 6 percent that restored more than $1.4 trillion in value to U.S. stocks. The yield on the two-year note, the coupon security most sensitive to Federal Reserve policy expectations, rose as the jobs data lifted the odds for higher rates this year. Silver surged, while Brazil's real led gains in emerging-market currencies.

Stocks rallied in the U.S. as the June jobs report capped a week of evidence that the world's largest economy is on sounder footing than the prior payroll figure had indicated. The gains pushed the S&P 500 toward a closing record for the first time in 285 days, the longest stretch outside a bear market since the 323-day drought through January 1985, and erased losses sparked by the U.K. secession vote.
"We always felt that the Brexit selloff was overstated, so we're not surprised at the speed of the recovery as we approach all-time highs," said Bruce Bittles, chief investment strategist at Milwaukee-based Robert W. Baird, which oversees $110 billion. "Stocks have no competition from the bond market. We had 16 straight weeks of outflows, and now the higher price is going to pull people back into the market."
The jobs report boosted confidence in the economy two days after data showed service providers expanded in June at the fastest pace in seven months. The economic readings were scrutinized for their impact on the Fed's next policy moves. Longer-dated debt advanced Friday, while the dollar posted a weekly advance versus the euro. Emerging-market assets advanced on speculation policy makers won't tighten amid persistent concerns over the fallout from Brexit.
Stocks
The S&P 500 added 1.5 percent to 2,129.9 at 4 p.m. in New York, while the Dow Jones Industrial Average climbed 1.4 percent to erase its post-Brexit losses.
"The big fear after Brexit is 'Is there an add-on effect? Does it slow economic growth?"' said Tom Anderson, Chief Investment Officer for Boston Private Wealth, which oversees $7 billion. "This data is obviously from before the Brexit vote primarily and suggests the U.S. economy is still in good shape and continues the power forward. It's encouraging and what U.S. investors are looking for."
The rally in 2016 has been led by double-digit gains in industries often considered by investors as "defensive" groups. Utility and phone companies are up the most on the year, posting advances of at least 20 percent, with utilities this week reaching a record. In Friday's trading, all of the S&P 500's 10 main industries rose, with financial, raw-materials, industrial and consumer discretionary companies adding more than 1.7 percent.
The Stoxx Europe 600 added 1.6 percent, trimming its weekly decline to 1.5 percent. The gauge is still 5.5 percent below its level prior to the Brexit vote. Italy's benchmark gauge on Friday surged the most since April.
The MSCI Emerging Market Index climbed 0.5 percent, paring a weekly decline to 1 percent. Brazil's Ibovespa jumped 2.2 percent as the government announced plans for a narrower budget deficit in 2017.
Bonds
The yield on the two-year Treasury note, the coupon security most sensitive to Fed policy expectations, rose by two basis points to 0.61 percent, while the yield on the 10-year fell three basis points to 1.36 percent.
Futures traders now assign 21 percent probability of a rate increase in December, up from about 12 percent yesterday.
Yields rose Thursday from near record lows as reports showed applications for unemployment benefits fell to the lowest since April and private payrolls rose more than forecast.
Currencies
The Bloomberg Dollar Spot Index fell 0.3 percent, after rising also rising by that much. The greenback strengthened versus the euro by 0.1 percent to $1.1055 per euro.
Brazil's real climbed 2.3 percent after the economic team of Acting President Michel Temer said it would cut the budget deficit next year in an effort to shore up the country's finances.
The pound climbed 0.3 percent to $1.2952, paring losses in a third week of declines against the dollar since the U.K. referendum on June 23. Sterling is down 2.4 percent this week and 12 percent year, the biggest drop among 16 counterparts.
China's yuan headed for a fifth weekly decline in the longest run of losses this year amid speculation the central bank favors further depreciation to revive the economy.
Commodities
West Texas Intermediate added 0.6 percent to $46.76 a barrel after the last session's 4.8 percent plunge. Oil headed for its biggest weekly decline in five months as investors weighed the largest drop in U.S. output since 2013 against a smaller-than-expected crude stockpile decline.
Gold for immediate delivery added 0.4 percent to $1,365.53, while silver jumped 2.6 percent. Copper rose 0.5 percent, paring its biggest weekly decline in two months amid concern about flagging demand and a a surge in inventories around the world.
Corn advanced 3.9 percent to $3.55 a bushel, extending its rebound after entering a bear market on July 5. Brazil slashed its estimate for domestic output after drought and frost hurt the crop.
Palm oil is poised to enter a bear market, dragged down by concerns over rising supply and lower prices of alternatives. The benchmark futures contract on Bursa Malaysia Derivatives in Kuala Lumpur has dropped 19 percent from this year's closing high of 2,779 ringgit reached on March 29.
(
Corrects third paragraph of story from July 8 to show streak was longest since 1985, not 1960s.
)
Before it's here, it's on the Bloomberg Terminal.
LEARN MORE