Media Mogul Saban Says Indonesia Proving to Be Brexit Haven
by and
Tax amnesty helping fuel Asian nation's stock market gains

'Power Rangers' gets new life; Univision 'on a roll'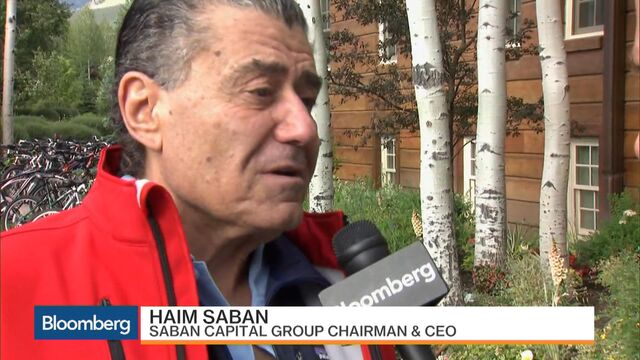 Media mogul Haim Saban has stumbled onto a bright spot in the market turmoil following the Brexit vote: Indonesia.
Lawmakers in the booming Southeast Asian nation passed a tax amnesty bill earlier this month that's expected to lead to a surge in repatriations, a move that's fueling optimism in a country that has relatively little exposure to the U.K. anyway. The Jakarta Stock Exchange Composite Index has been the best performer among major benchmarks in Asia over the past month, adjusted for currency changes, and has trailed only Brazil and Argentina globally.
That's benefited the holdings of Saban, who has stakes in Indonesian TV companies Media PT Nusantara Citra and PT MNC Sky Vision in addition to his investments around the world, including U.S. Spanish-language broadcaster Univision Communications Inc. and the rights to the "Power Rangers" kids' TV series. In an interview with Bloomberg Television from the Allen & Co. conference in Sun Valley, Idaho, even he seemed surprised by his good fortune,
"For some odd reason Brexit has benefited us," he said. "The stocks we hold in Indonesia all went up. "
The Israeli-American businessman isn't alone in betting on Indonesian media stocks. Samsung Asset Management Ltd.'s Alan Richardson said in an interview earlier this year that he was betting on higher TV ad spending by high-flying consumer companies.
Power Rangers
Saban, 71, has a net worth of $3.6 billion, according to the Bloomberg Billionaires Index, up 7.9 percent this year. He started his career in the music industry and then transitioned into television. Long before comic-book characters became blockbuster entertainment, he was producing shows based on characters like the X-Men. But Saban Entertainment's biggest impact on popular culture has been "Mighty Morphin Power Rangers," a series for kids about a group of robot pilots that became a phenomenon in the 1990s.
The Power Rangers are getting a new incarnation in a film by Lions Gate Entertainment Corp. next year, a potential new franchise for the studio behind "The Hunger Games" and "Twilight."
"'Power Rangers' has been on the air in the Western world, including the U.S. and Europe, for 23 years," Saban said. "It can only affect it even more positively."
Higher Ratings
Univision, the largest Spanish language broadcaster in the U.S., has been aiming for an initial public offering in the second half of 2016 to raise as much as $1 billion, people familiar with the situation said in April. Univision first announced plans to go public a year ago on the condition that its market value exceed $6.5 billion for the offering. The proceeds will repay debt and other expenses. The network was taken private in 2007 in a $12.3 billion leveraged buyout by a group of investors led by Saban Capital Group, and Mexican broadcaster Grupo Televisa SAB later became a partner.
Saban declined to comment on the IPO plans because the company is in a quiet period. However, Univision, he said, is "on a roll."
"Our ratings have grown significantly on all of our services," Saban said.
The network came into focus during Donald Trump's rise as the presumptive Republican nominee, when his comments about Hispanics led the company to sever ties with the real estate magnate. In February, Univision settled a lawsuit with Trump after he sued the network for dropping the Miss Universe and Miss USA pageants last year. 
Saban has been a vocal supporter of, and donor to, Hillary Clinton.
"She is the most qualified candidate, the best candidate -- we've been personal friends for 25 years," he said. "She's a wonderful human being, and I think she would be great leader for the United States."
Brexit has been a hot topic at the conference this year, with a session planned Friday on the fallout of the U.K.'s vote to leave the European Union. Journalist David Ignatius is moderating the panel featuring Coca-Cola Co. CEO Muhtar Kent, Financial Times editor Lionel Barber and Axel Springer SE CEO Mathias Doepfner.
Before it's here, it's on the Bloomberg Terminal.
LEARN MORE