May Vies for Iron Lady's Mantle as 'Hard as Nails' U.K. Premier
by
Most durable home secretary in decades tipped to beat Leadsom

Conservatives to announce leadership winner on September 9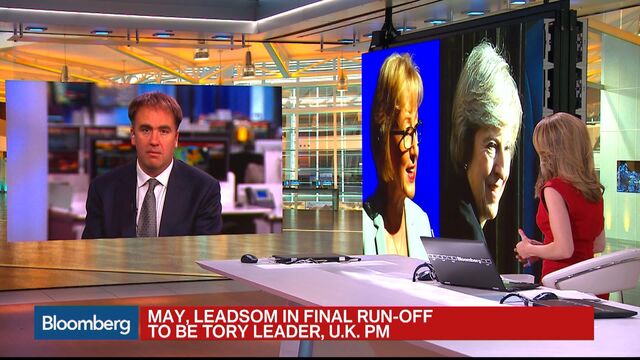 Boris Johnson spent more than 200,000 pounds on three second-hand German water cannons when he was mayor of London, thinking Home Secretary Theresa May would rubber-stamp their use by the police. He was wrong.
After corresponding with police chiefs, conducting trials and commissioning studies on the equipment's effect on crowds, May concluded -- thirteen months later -- that the cannons were unfit for use. She told Parliament that she had been "as thorough and exhaustive as possible."
The episode illustrates the diligence and resolve May pours into a job that has been a political graveyard for many but she's held longer than anyone in 65 years. Now the 59-year-old, a clergyman's daughter like Angela Merkel, is on the cusp of succeeding Prime Minister David Cameron to chart the U.K.'s course out of the European Union.
"Woe-betide the minister who goes into a meeting with Theresa May unprepared," Cabinet Office Minister Matthew Hancock said in a telephone interview after May won the first round of voting in the Conservative Party leadership race on Tuesday. "She has both the strength of character and the proven experience to deliver."
Gloves Off
May must still beat Andrea Leadsom, energy minister, if she is to become premier in September, after Conservative lawmakers whittled five candidates down to two. Bookmakers made her the favorite after she secured the support of 60 percent of Tory Members of Parliament. She now needs to persuade the wider 125,000-strong party membership that she deserves their backing, even though she opposed the vote for a so-called Brexit that was widely approved by Tories.
In her time in government, May hasn't shied away from a fight. When she and leadership contender Michael Gove locked horns two years ago over Islamic extremism in schools, May came out on top when he was demoted soon after. She clashed with Chancellor of the Exchequer George Osborne over immigration and defended her department's budget against cost cuts with such ferocity to earn a place in the so-called awkward squad.
Cold Edge
May "was a tough negotiator and fought her own corner with some determination," David Laws, who served under Cameron as Chief Secretary to the Treasury, wrote in his book "Coalition."
Year after year, May has delivered speeches to a hostile Police Federation, offering up a menu of budget cuts, pay freezes and unpopular reforms. She's been laughed at, booed, and ordered to resign by officers.
"She's hard as nails," according to Norman Baker, a Liberal Democrat who served as a minister in her department for 13 months.
Her supporters argue that track record give her an edge over her female rival when it comes to extracting concessions from the EU once the trigger is pulled and the clock starts on two years of talks.
'Bloody Difficult'
On her climb up the Tory ladder, May's cool demeanor garnered a series of disparaging nicknames among her male colleagues, Law writes. Deputy Prime Minister Nick Clegg pegged her an "Ice Maiden," while another cabinet colleague, Eric Pickles, referred to her as "Tricksy Belle of Marsham Street," the London thoroughfare where the Home Office stands. There was a "distinct frostiness" between Cameron and May, he added.
"Theresa is a bloody difficult woman," her former cabinet colleague Kenneth Clarke said Monday in an unguarded comment to former Foreign Secretary Malcolm Rifkind that was caught on camera by Sky News. "But you and I worked for Margaret Thatcher," the famously tough former prime minister known as the "Iron Lady."
While her colleagues find her frosty, the tabloid-reading population know of her taste for leopard-print kitten-heel shoes.  "I enjoy clothes, I enjoy fashion," she told the Mail on Sunday in 2013, three years into her stint in one of the four so-called great offices of state.
Born in Eastbourne on the south coast of England in 1956, she was the only child of a Church of England vicar and the exotically-named Zaidee Brasier. She studied geography at the University of Oxford, where Benazir Bhutto, future president of Pakistan, introduced her to the man she married.
She started her working life at the Bank of England before moving to a financial-services trade association as a senior consultant. Then came a call to serve: First as councillor in Merton, south London for 8 years, followed by two unsuccessful bids to be elected to Parliament before succeeding in Maidenhead, west of London, in 1997. She's served the constituency ever since.
Nasty Party
May rose to national prominence in 2002, when as the Conservatives' first female chairperson, she told delegates the public considered theirs "the nasty party" -- a criticism that still rankles with some in the grassroots.
"There has been nothing before or since that suggests a great affinity between May and the politics of the Conservative Party membership," Ben Harris-Quinney a party member and chairman of the Bow Group, a Conservative think-tank, said in a phone interview.
Be that as it may, she's survived at her current post longer than the four previous home secretaries combined. Known for poring over ministerial papers into the early hours of the morning, May has type 1 diabetes, a condition that means she has to inject herself with insulin at least twice a day.
To jog your memory on how the U.K. vote to quit the EU went down, click here
When announcing her candidacy, she acknowledged she's "not a showy politician."
"I don't tour the television studios," she said to cheers last week. "I don't gossip about people over lunch. I don't go drinking in Parliament's bars. I don't often wear my heart on my sleeve, I just get on with the job in front of me."
She's also been more forthcoming about her private life. She and her husband, Philip, cannot have children. While it "affected" her, she told the Mail on Sunday, "you accept the hand that life deals you."
In her time in government, she's mainly stuck to discussing her brief, though a conference speech in 2014 that forayed into foreign affairs was widely interpreted as a pitch to succeed Cameron. She's yet to outline a detailed economic philosophy.
Click here to read more about how the U.K. and Europe Can break up, amicably
Among her successes she lists cutting police spending without crime going up, standing up to the U.S. government by denying the extradition of a Briton on charges of hacking military computers, and deporting the Muslim cleric Abu Qatada to face charges in Jordan after her 5 predecessors failed to do so in 12 years of battling with the courts. 
On the down side, she's struggled to get net immigration down in part due to the EU freedom of movement rules. A longstanding Euroskeptic who reluctantly sided with the 'Remain' camp, May was rarely seen during the campaign.
"She's got lots of experience but are we sure what she actually stands for?" said Andrew Rosindell, a backbench Tory lawmaker. "I'm not, to be honest."
In the wake of the referendum result, she wasted no time stepping out of the shadows and into the ring following Cameron's resignation. "Brexit means Brexit" she declared before taking a swipe at a dithering Johnson, the then favorite who hours later said he wouldn't stand.
"I have done this: I have sat around the table; I know what it's like in those European meetings. I've not just done it, I've delivered," she said. As for Johnson, "the last time he did a deal with the Germans he came back with three nearly-new water cannon."
Before it's here, it's on the Bloomberg Terminal.
LEARN MORE