Macri in U.S. to Sell Argentina to Sun Valley's Media Moguls
by
New president is expected to meet KKR Chairman Henry Kravis

Nation tries to drum up investment after years of isolation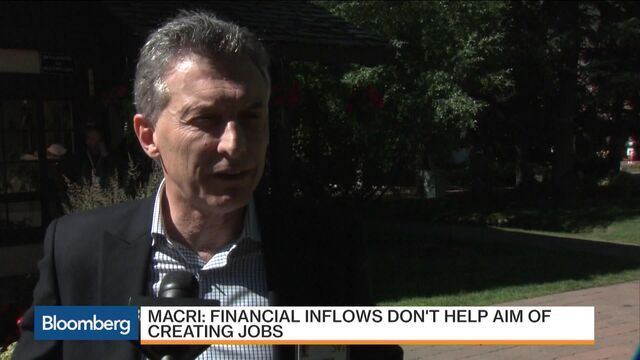 The exclusive Sun Valley ski resort in Idaho is the latest stop in Argentine President Mauricio Macri's world tour to sell South America's second-largest economy to global investors.
Macri is attending a meeting of media and technology giants Thursday and is scheduled to meet Henry Kravis, co-chairman of leveraged-buyout firm KKR, Argentine media reported. Canadian Prime Minister Justin Trudeau is attending, as are Michael Eisner, former chief executive officer of Walt Disney Co. and Comcast Corp. CEO Brian Roberts.
Macri is crisscrossing the world from Davos to Sun Valley, via Paris, Brussels and Berlin, as he seeks to drum up investor interest in Argentina following 12 years of international isolation under President Cristina Fernandez de Kirchner and her late husband, Nestor Kirchner. The 57-year-old has said the country needs $100 billion in foreign investment in coming years as he embarks on an ambitious plan to modernize the economy.
Foreign direct investment in Argentina dried up under the Kirchners, who imposed currency controls and raised trade barriers. Argentina, a G-20 member since the group's founding in 1999, received $11.7 billion in foreign direct investment in 2015, the least among Latin America's top five economies, according to the United Nations.
Macri has already negotiated an end to the 15-year standoff with holdout creditors from a 2001 default, paving the way to the sale of $16.5 billion of debt. Now he's turning to the U.S. technology sector for the investment in industry that will create jobs and reduce poverty, he said in an interview in Sun Valley. The U.K.'s decision to leave the European Union may make countries like Argentina more attractive to investors, Macri said.
"Financial flows that go in and out don't help me very much," Macri told Bloomberg TV. What helps "is for real investments, real companies to come to Argentina. That's what I'm looking for here."
Macri said at a World Economic Forum event in Colombia last month that the country has received investment pledges worth $16 billion since he assumed office in December. He said he'll be announcing a further $4 billion soon.
The Sun Valley conference, organized by Allen & Co., is branded as a "summer camp" for the world's communication and technology industry leaders, their families, and prominent political figures. It has also won a reputation as an incubator for deals.
It was there in 1995 that Disney's Eisner first proposed a purchase of Capital Cities/ABC, which led to the broadcaster's acquisition for $19 billion. That was followed by Rupert Murdoch's $2.48 billion takeover of Ron Perelman's TV stations. The outlines of the ill-fated AOL-Time Warner merger were also sketched out at the retreat, which was originally designed as a resort area by the Union Pacific Railroad.
Before it's here, it's on the Bloomberg Terminal.
LEARN MORE