PM Hopeful Leadsom Offers Optimistic Vision of Brexit Economy
by and
Candidate to succeed Cameron touts 'prosperity not austerity'

Says 'disaster' forecasts for pound after Brexit proved wrong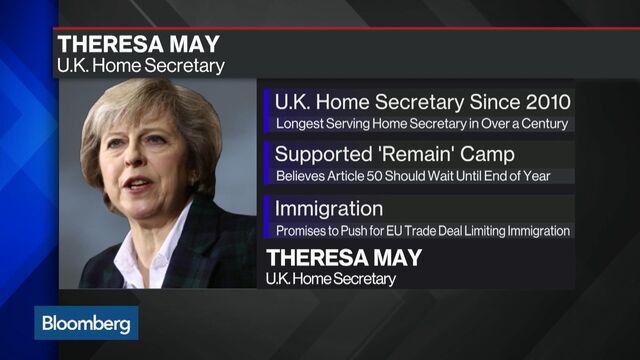 Andrea Leadsom, one of three remaining candidates to succeed David Cameron as prime minister, gave an optimistic view of the U.K.'s economy after last month's referendum vote to leave the European Union, saying "prosperity should be our goal, not austerity."
Billed by her leadership campaign as a "major speech on the economy," Leadsom's 12-minute address to supporters in London included a pledge to maintain free trade with the EU and a prediction that growth will continue in the U.K. She also played down the pound's fall to the lowest against the dollar since 1985 and welcomed the drop in government borrowing costs.
"Already we can see that the forecasts of a disaster for sterling, for equities and for interest rates have not been proven correct," Leadsom said. "The pound is weaker, partly as a result of the markets being wrong on the result of the referendum, and partly on the expectation of further interest-rate easing. But lower sterling is good for exports and makes inward investment more attractive."
Round Two
Conservative Party lawmakers vote on Thursday to narrow the field of candidates for their next leader from three to two. Home Secretary Theresa May won half the votes in Tuesday's round of voting, with Leadsom in second place and Justice Secretary Michael Gove in third. Whoever comes last in this round will be eliminated, with the final two names sent to the 125,000 Tory members nationwide to choose, unless one of them drops out.

Leadsom, the only candidate who has never run a government department, worked in financial services before entering Parliament in 2010. She joined the Treasury Committee that year, serving for four years until Cameron appointed her Economic Secretary at the Treasury. After the 2015 general election, she moved to the Department for Energy and Climate Change as a minister of state.
'Leadsom for Leader!'
Her office issued a denial on Wednesday after reports that she'd exaggerated her banking experience to bolster her leadership credentials. After questions about her resume on Thursday, Leadsom told the BBC that she ran "huge teams of people" at Barclays, even as people who worked at the bank questioned her record.
One former executive, who worked at Barclays when she did and spoke on condition of anonymity, said Leadsom didn't manage huge teams and was mid-level. Another person who works at Barclays said he couldn't find anyone who remembered working with her. A spokeswoman for Barclays declined to comment.
Leadsom also worked at Invesco Perpetual from 1999 to 2009, where her resume shows she was a senior investment officer. She told the BBC that she had never been a fund manager and had never claimed to be one. Earlier this week, a former colleague at Invesco, Robert Stephens, said she had "allowed people to credentialise her as being someone who made her way to the top of the City, when that was not an accurate presentation of her time at Invesco Perpetual."
She refused to take questions from reporters after her speech. In it, she said she had a specific message for financial markets unnerved by Britain's surprise vote to quit the EU: "No one needs to fear our decision to leave," she said. "We will do so carefully, reassuring our European friends, and those businesses who are worrying about change."
Penny Mordaunt, the Tory lawmaker who introduced Leadsom's speech, later denied that the candidate's reference to austerity marked a departure from the Conservative Party's current goal of slowing the growth of government spending.
"What Andrea was trying to get across today is that we need some optimism," she said. "We need to start talking the country back up. She has previously spoken about how we need the different departments of government to work more effectively together."
After her speech, Leadsom supporters led by lawmakers marched to Parliament chanting, "Leadsom for Leader!"
Before it's here, it's on the Bloomberg Terminal.
LEARN MORE