Hinkley Subsidy May Reach 37 Billion Pounds, Twice Last Estimate
By and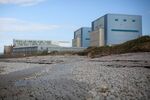 Subsidies promised to Electricite de France SA by the U.K. for power generated from the Hinkley Point C nuclear station are projected to reach 37 billion pounds ($48 billion), more than twice the estimate made a year ago, according to data published on a government website Thursday. 
The estimate reflects the difference between the 92.50 pounds that the government has agreed to pay per megawatt-hour for 35 years and new long-term forecasts for wholesale electricity prices. In June last year, the figure was 14.5 billion pounds. U.K. month-ahead power dropped 11 percent in the year through September 2015 and has declined a further 7.6 percent to date, according to broker data compiled by Bloomberg.
The new costing is based on September 2015 data from IPA Advisory Ltd. and was published on the website of the Department of Energy and Climate Change.
"Today's report from the IPA does not suggest that the lifetime costs of Hinkley have increased," the DECC said in an e-mailed reply to questions. "It is a snapshot of the position at the end of September 2015."
The new estimate adds fuel to the controversy over the viability of the 18 billion-pound project, which prompted EDF Chief Financial Officer Thomas Piquemal to quit in March. Chief Executive Officer Jean-Bernard Levy has said repeatedly he will make a final investment decision as soon as possible, while U.K. Prime Minister David Cameron, due to step down in September after his country voted to exit the European Union last month, has also reiterated his support.
"Hinkley Point C will generate reliable low-carbon electricity in the future, so a cost estimate based on last year's depressed wholesale price is not relevant," EDF said in a statement. "HPC's electricity will be competitive with other low-carbon energy options and consumers won't pay a penny until the plant begins operating."
Before it's here, it's on the Bloomberg Terminal.
LEARN MORE