Goldman Stock Picker's Case Run Over by S&P 500 Correlations
by
Low-dispersion environment returns after Brexit volatility

Citi index shows highest stock-to-stock correlation since '11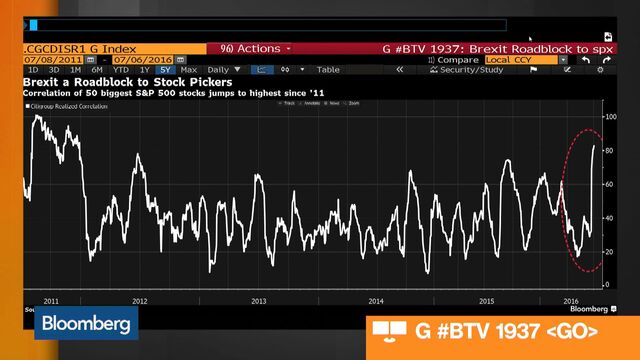 It was less than a month ago that Goldman Sachs Group Inc. saw the U.S. equity market turning into a stock-picker's playground. Then came Brexit.
The U.K.'s surprise vote to quit the European Union last month reawakened lockstep moves in stocks at a time when the market was just beginning to show signs of becoming more amenable to stock selection. One-month correlation among the 50 biggest companies in the S&P 500 Index is now near the highest since 2011, according to Citigroup Inc.
It's an unwelcome return to an environment that has plagued active equity managers for much of the bull market. U.S. equities moving in unison offer few places for investors that rely on their stock-picking acumen to beat the returns of benchmark indexes.

"The markets were getting rich for bottom-up stock pickers and unfortunately Brexit kind of puts that on hold for a quarter or two," Krishna Memani, chief investment officer at New York-based Oppenheimer Funds Inc., said by phone. "If things stabilize there will still be tremendous opportunities but these larger macro shocks certainly increase correlation of individual equities."
A Goldman Sachs representative declined to comment. David Kostin, the bank's chief equity strategist, said in a note to clients Wednesday to expect an upcoming pullback of 5 percent to 10 percent in the S&P 500.
The Citi index, which tracks the degree to which stocks in the S&P 500 move in the same direction, now reads 83 percent, compared with 32 percent the day before the vote. When measured using standard deviation, or variance from the average swing, dispersion in the S&P 500 in June was the lowest of the year, according to data compiled by Bloomberg.
Just how tough has it been for active managers the past few years? Return dispersion, measured by Goldman as the standard deviation of S&P 500 stock returns and a value that rises when correlations ease, reached a record low in the third quarter of 2014 and remained suppressed throughout most of 2015, the team wrote in a report last month.
A similar metric used by JPMorgan Chase & Co. shows weekly dispersion averaged 3.5 percent from 2011 through 2014, compared with 5.3 percent going back to 1995.
Yet going into the U.K.'s referendum, markets had finally managed to wriggle free of forces that at the start of 2016 kept U.S. stocks in sync amid a global selloff in equities. By May 16, a CBOE index that measures the expected correlation between returns of stocks in the S&P 500 fell to the lowest level of the year, meaning shares were charting unique paths. 
It was a few weeks after that when Goldman published a note to clients heralding the return of the stock-picker's market.
The S&P 500 "has moved beyond a low dispersion environment," wrote the bank's research team, led by Kostin. Stocks "recently transitioned out of the low return dispersion regime that persisted for the past several years and into a more normalized regime."
There are a handful of tools strategists use to measure correlation in markets. Longer-term relationships, such as three-month returns, still show easing in lockstep moves between stocks, according to data compiled by Bloomberg. And in Goldman's favor, it wasn't just the ties between U.S. stocks that were loosening. Connections between stocks and other asset classes had been easing as well.
The 30-day correlation of prices in the S&P 500 and oil, for example, was 0.15 on May 16, compared with a high of nearly 1.0 at the beginning of the year. The market's correlation with the U.S. dollar, which had surged to more than minus 0.9 in September of 2015, eased to positive 0.1 by June 3. Still, both relationships have strengthened since then.
While Brexit indeed spiked stock-to-stock correlations, labeling the market as being good or bad for picking stocks is missing the point, says Citigroup's chief U.S. equity strategist Tobias Levkovich.
"Right now you get the sense people are throwing away the baby with the bathwater, and that tends to happen when the market is selling off and they want to protect themselves from more losses," Levkovich said by phone. "Historically it's been a buy signal for the next six to 12 months."
Before it's here, it's on the Bloomberg Terminal.
LEARN MORE