Gold And Eggs Lure Back Chinese Speculators in Trading Revival
Bloomberg News
Commodity volumes return to level seen in wake of April frenzy

Precious metals, animal feeds jump; $1.6 billion of eggs trade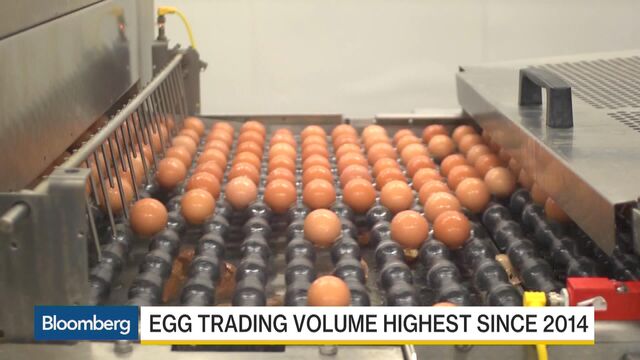 Chinese speculators aren't done with commodities yet.
Trading volume that cratered following steps by regulators to deflate a bubble in April has surged almost 90 percent since last month and is back to levels last seen in the aftermath of the frenzy. While the amount of money changing hands across the three biggest exchanges remains well below the peak, the resurgence shows speculators are still ready to jump back into raw materials.

Chinese investors are turning to everything from gold to eggs as speculation mounts that central banks will take steps to stabilize the global economy following the U.K.'s decision to exit the European Union. While that's bolstering the outlook for demand, there's also concern about supply of commodities such as soybean meal and nickel that's driving up prices amid ballooning volumes.
QuickTake Gold's Ups and Downs
"The return of massive trading volumes in Chinese commodities markets was triggered by Brexit, with investors believing that global monetary easing and a pause in U.S. interest rate hikes are very likely and would be bullish for commodities," Cheng Xiaoyong, principal analyst at Baocheng Futures Co., said by phone from Zhejiang.
Aggregate Volume
A total of about $173 billion changed hands on the Dalian Commodity Exchange, Shanghai Futures Exchange and Zhengzhou Commodity Exchange on Wednesday with aggregate trading volume of 51.5 million contracts, the most since April 26, bourse data show. Turnover peaked on April 22 at $261 billion and 80.6 million contracts before shrinking to about $80 billion in the middle of June. It was about $142 billion on Thursday.
While April's frenzy was driven largely by demand for industrial commodities such as steel, iron ore and coking coal, trading in those contracts remains below peak levels after the exchanges raised margins and fees, and regulators took steps to quell speculation. This time around, it's agricultural commodities, gold, silver and some base metals that are attracting most attention of Chinese investors.
The Zhengzhou Commodity Exchange "has risk control and market surveillance departments that are charged with monitoring all the trading activity on the bourse at all time," Wang Xiaoming, media director at the exchange, said by phone on Tuesday. "We make sure that all participants comply with our existing rules and regulations."
For a chronicle of China's commodities trading explosion, click here.
Officials from the Shanghai and Dalian exchanges declined to comment on the recent recovery in trading volumes. Nobody replied immediately to faxed questions to the China Securities Regulatory Commission.
Trade in soybean meal in Dalian and rapeseed meal in Zhengzhou has exploded. Concern about supply disruptions amid rising demand has driven prices of the animal feeds to the strongest since 2014. Gold volumes on the Shanghai Futures Exchange jumped to a record on June 24 while silver trading was at the highest level since August 2015 on Wednesday as the Brexit vote sent investors to havens.
Nickel volumes jumped to the most since the contract started in March last year amid speculation that the Philippines, China's biggest supplier of nickel ore, will clamp down on mining operations. About $1.6 billion worth of eggs traded in Dalian on Wednesday amid the heaviest trading since 2014.
While volumes are increasing, aggregate open interest has remained relatively unchanged, an indication of short-term, speculative trading as opposed to hedging.
"Volumes fell in May and June after some profit-taking from investors in ferrous metals futures and cooling measures by the exchanges," said Cheng. "Now we're seeing investment pile up again in commodities with bullish fundamentals."
— With assistance by Shuping Niu, and Alfred Cang
Before it's here, it's on the Bloomberg Terminal.
LEARN MORE