China Foreign Reserves Unexpectedly Climb to $3.21 Trillion
Bloomberg News
PBOC probably didn't intervene heavily in currency: economist

Yuan seen falling as PBOC favors drop amid fragile sentiment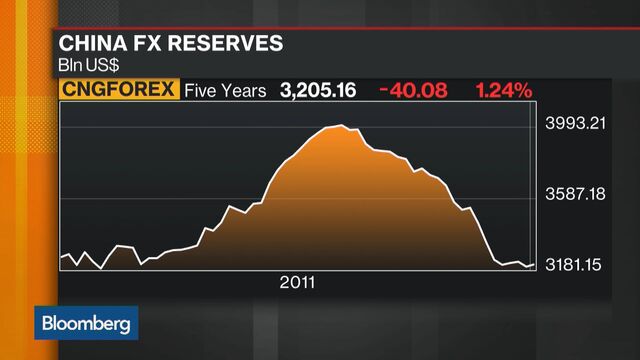 China's foreign-exchange reserves unexpectedly increased as haven assets such as the Japanese yen appreciated amid the U.K.'s decision to leave the EU.
The world's largest currency hoard rose by $13 billion to $3.21 trillion in June, the People's Bank of China said in a statement Thursday. That compares with the $3.17 trillion median forecast of economists surveyed by Bloomberg. The yen, which China holds as part of its reserves, advanced by 7.3 percent against the dollar in June.
"This indicates that the PBOC didn't heavily intervene in the currency market last month as it let the yuan depreciate in accordance with market supply and demand," said Nathan Chow, an economist at DBS Group Holdings Ltd. in Hong Kong. "The yuan will drop further as Beijing apparently has a bias for depreciation due to the weaker economy, which will lead to more outflows and pressure the reserves in the second half."

While the holdings have remained steady this year, stabilizing after a rare decline last year, they're still down 20 percent from a $4 trillion peak in June 2014. The yuan fell to the lowest since 2010 this week, pressured by surging demand for the dollar and the yen after the U.K. voted to leave the EU and weakening economic data.
Reserves denominated in the International Monetary Fund's Special Drawing Rights currency also increased, rising to 2.29 trillion in June from 2.28 trillion in May.
With the economy on firmer ground and markets more stable compared with last year, there aren't any major capital outflows even amid rising external stress due to the stronger dollar and global risk aversion, said Harrison Hu, chief greater China economist at Royal Bank of Scotland Plc.
"Yuan depreciation has accelerated during the past month but capital outflows have not accelerated that much," Hu said. "It's an orderly depreciation. That means you have no positive feedback loop between depreciation and capital outflows. This is a good development, which means for the PBOC they can continue to allow further depreciation without triggering market panic."
China's foreign reserves have stabilized at about the same level as they were in January. The holdings shrank last year for the first time since 1992, ending a 22-year ascent that began under former top leader Deng Xiaoping.
— With assistance by Tian Chen
Before it's here, it's on the Bloomberg Terminal.
LEARN MORE