China Inc.'s Overseas Failures Rise Amid Dealmaking Boom: Chart
by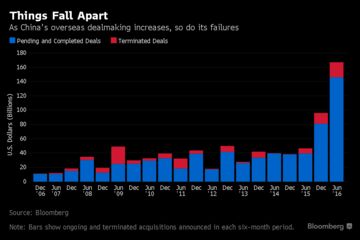 Deal-hungry Chinese companies face skeptical boards that have seen a number of large acquisitions collapse -- sometimes with scant warning. At least $21 billion of announced deals from Chinese buyers this year have been terminated, the most since the first half of 2009. Tougher regulatory opposition and financing problems are also endangering the $148 billion wave of overseas acquisitions from China, which has been a rare bright spot in global M&A this year.
For more on how China's overseas dealmaking is stumbling, click here.
Before it's here, it's on the Bloomberg Terminal.
LEARN MORE