Australia Rating Outlook Cut to Negative From Stable by S&P
By and
S&P gives one-in-three chance of downgrade within two years

Lack of clear winner dents prospect of fiscal consolidation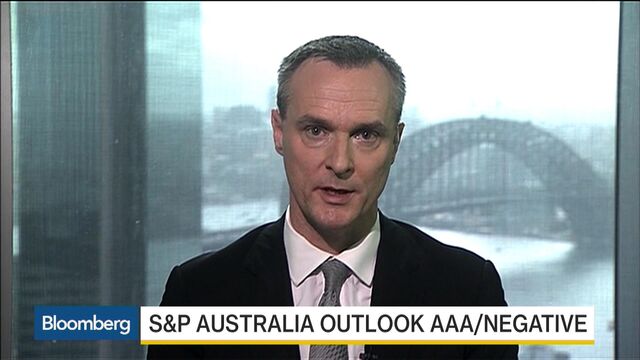 S&P Global Ratings cut the outlook on Australia's AAA credit rating to negative from stable as it warned the prospect of fiscal-policy gridlock could thwart government attempts to rein in a budget deficit.
The agency acted following Saturday's federal election, which hasn't delivered either Prime Minister Malcolm Turnbull's Liberal-National coalition or the main opposition Labor Party a strong mandate, potentially weakening the eventual winner's ability to push through fiscal savings measures. While the coalition is edging ahead as counting continues, it remains unclear whether it will gain enough seats to form government in its own right.
"The negative outlook on Australia reflects our view that without the implementation of more forceful fiscal policy decisions, material government budget deficits may persist for several years with little improvement," S&P said in a statement Thursday. There is a "one-in-three chance that we could lower the rating within the next two years," the credit assessor said.
While the three main rating companies warned on Monday that Australia's grade may come under pressure following the election result, and Treasurer Scott Morrison took to television within half an hour of Thursday's S&P statement, markets appeared more relaxed. The nation's 10-year bond yield remains close to the record-low of 1.84 percent it touched Wednesday, while the currency was little changed despite initial volatility.
Australia's dollar weakened as much as 0.7 percent to 74.67 U.S. cents following the statement before rebounding to 75.05 as of 5:12 p.m. in Sydney. The 10-year yield was at 1.87 percent.
Strong Credit
"The fact the rating wasn't actually downgraded was positive," said Jason Wong, a currency strategist at Bank of New Zealand Ltd. in Wellington. "By global standards, Australia is a very strong credit."
S&P's decision to shift its outlook on Australia comes as the nation faces a decline in tax revenues amid a drop off in commodity prices and a fall in mining investment. While the government has sought to chart a path back to surplus, budget deficit projections have been repeatedly revised higher and measures to curtail the shortfall have also been stymied in parliament.
Australia isn't alone in seeing minimal bond market impact from rating agency decisions. While the U.K. recently had its credit ratings cut by both S&P and Fitch in the wake of Britain's European Union referendum, gilt yields have continued to mark record lows.
Banana Republic
Australia was last stripped of its top ratings by both S&P and Moody's Investors Service in 1986, the same year then-Treasurer Paul Keating warned that the nation was at risk of becoming a "banana republic." Moody's restored the top tier score in October 2002, with S&P following in February 2003. Fitch Ratings awarded Australia a AAA ranking in 2011, and the country is currently one of just 10 to hold the highest score from all three major assessors -- for now.
S&P warned the AAA could be lost if it believes "that parliament is unlikely to legislate savings or revenue measures sufficient for the general government sector budget deficit to narrow materially and to be in a balanced position by the early 2020s."
The credit ranking company also revised to negative its outlook on New South Wales, Victoria and the Australian Capital Territory, the three Australian provincial governments that currently hold AAA scores. The four largest banks' outlooks were shifted to negative as well.

The coalition has so far won 73 seats in the 150-member lower house to Labor's 66, according to a projection by the Australian Broadcasting Corp. with almost 83 percent of the vote counted. Independents and minor parties won five, and six districts were still in doubt. Turnbull needs 76 seats to form a majority government.
Given the outcome of the election "in which neither of the traditional governing parties may command a majority in either house, we believe fiscal consolidation may be further postponed," S&P said.
S&P provides "important context for the incoming parliament about the reality of the fiscal environment and the global economic environment," Treasurer Scott Morrison told reporters in his televised news conference. The government needs "to live within our means when it comes to the fiscal settings of the Commonwealth."
"Fiscal consolidation cannot be postponed or slowed," Morrison said.
The government in May forecast Australia's deficit at A$37.1 billion ($27.9 billion) in the year through June 2017, wider than predicted six months earlier. This deterioration from earlier forecasts has been a constant fiscal feature in Australia since deficit spending began in 2008-09 to combat the global financial crisis and keep the economy out of recession.
"Being put on negative watch is not the same as a downgrade, and a country can remain on a negative outlook for up to two years without being formally downgraded," said Shane Oliver, head of investment strategy at AMP Capital Investors Ltd. "But I suspect it's probable that a formal downgrade will follow unless the new government is able to hold the line on the budget deficit projections which will be hard given the likely state of the Senate."