QuickTake
As Abortion Ruling Unfolds, Here's What Comes Next
Since the high court ruled for rights in the Texas case, it has snubbed Wisconsin and Mississippi, and Planned Parenthood is on the march.
by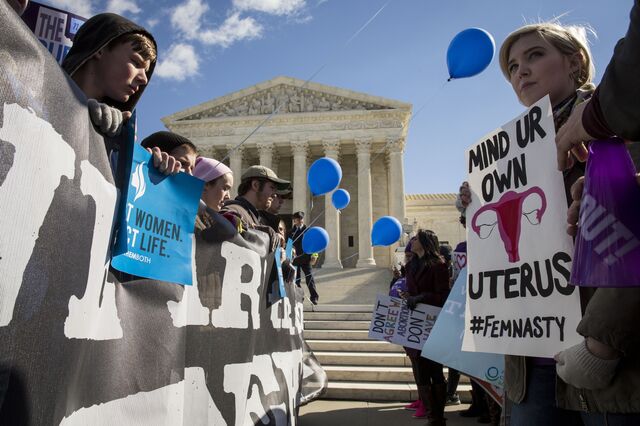 The U.S. Supreme Court's June 27 ruling on abortion was the most sweeping in a generation, leaving providers of the procedure and their allies on unfamiliar ground: victory. 
On the losing end was Texas, which in 2013 became the most populous state to pass stringent requirements that would have made it too difficult or too expensive for most clinics to remain in business. The June ruling dealt state officials a heavy blow, saying the Texas law provided "few, if any, health benefits for women, poses a substantial obstacle to women seeking abortions, and constitutes an undue burden on their constitutional right to do so." 
That struck at the heart of why proponents of the Texas law and others like it said the provisions were necessary in the first place: to protect women's health and raise the standards of abortion care, which they claimed were dangerously lacking.
QuickTake The Battle Over Abortion
Just 24 hours later, the high court turned away appeals from Wisconsin and Mississippi to revive their doctor-admitting privilege laws, and Alabama withdrew its own appeal. Late last week, Planned Parenthood said it would use the ruling to dismantle more abortion restrictions in Texas and seven other states.
Abortion rights supporters have plenty of ground to make up after years of losses, during which their opponents passed hundreds of laws restricting the procedure and clinics closed at the fastest annual pace on record. In Texas, clinics now able to reopen won't do so overnight, and many never will. 
But last week's decision has already begun to reshape the legal landscape across the country, laying down a strong defense of the court's other landmark ruling on abortion, in 1973 — that women have a constitutional right to terminate a pregnancy.
Before it's here, it's on the Bloomberg Terminal.
LEARN MORE