Alibaba Health Expands Into New Consumer Business After Setbacks
Bloomberg News
Alibaba subsidiary to expand tracking system for consumers

Company hopes to reach consumers concerned with food safety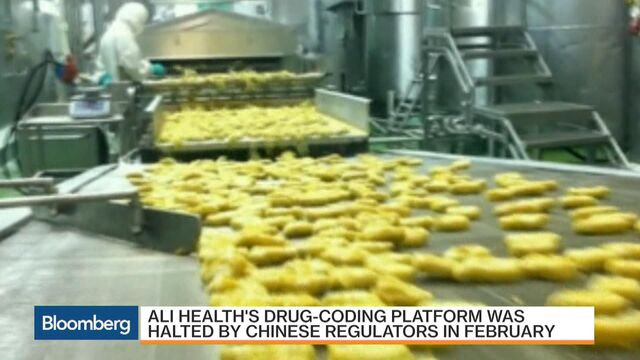 Alibaba Health Information Technology Ltd. has seen losses mount for the past two years, grappled with regulatory changes and seen its share price slump from record highs. Now the subsidiary of China's biggest e-commerce operator is attempting to revive its fortunes by tapping new areas of growth -- like consumer safety.
China in February scrapped plans to implement a compulsory drug coding system intended to identify counterfeit medicines that would have used a platform developed by Ali Health. The Alibaba Group Holding Ltd. subsidiary says it is now using the same technology to build a commercial tracking platform that will have wider applications beyond medicines.
Ali Health's new system could be used to track the origins of products such as baby formula, farm produce and even wine for Chinese consumers concerned about food safety, Chief Executive Officer Wang Lei said in an interview in Beijing.
A vehicle for billionaire Jack Ma's health-care ambitions, Ali Health has tried its hand at businesses from the drug-coding system to an e-pharmacy platform and online consultation services. But the drug coding platform was Ali Health's main source of revenue before its expansion was curbed in February. Ali Health saw revenue rise 90 percent to 57 million yuan ($8.5 million) in 2015, aided by a growing number of users of the system. At the same time, the company's losses more than doubled to 192 million yuan because developing new businesses required investment, according to its annual report.
"Speaking in the long term, whether it's the tracking code system or e-pharmacy, it's all at a very early stage," said Wang. "It's a huge market, and I don't think it's worth it to slow down our pace because of money at this early stage."
Ali Health is currently talking to partners to expand use of the technology, and continues to run the existing drug tracking system for the government while awaiting a final decision. The China Food & Drug Administration suspended the electronic coding system earlier this year for use in the drug industry as it made draft amendments to existing rules, allowing the use of other methods to track medicines back to their origin. The China FDA did not respond to a fax seeking comment.
Wang says the company's new system, which targets consumers, will have more users and a greater potential to generate revenue because, with clients' authorization, Ali Health will be able to develop value-added services for extra charges.
Online Pharmacy

Ali Health faces a host of challenges as it attempts to reshape its operations. Government regulations shift constantly in China's nascent e-pharmacy and internet health-care industries. Private health-care insurance is still not widely used. And in the consumer-facing tracking business, it faces competition from companies that already have established networks.
In April last year, Ali Health agreed to buy an online pharmacy business from parent Alibaba for $2.5 billion. But the companies dropped that planned deal earlier this year, citing "regulatory uncertainties". Instead, they said Alibaba was considering injecting "a substantial segment" of the health foods, dietary supplement and nutritional products business operated by its Tmall online shopping platform into Ali Health.
Wang said it is difficult to forecast this year's financial performance because of the unpredictable nature of the timing of approval from Hong Kong authorities for the asset injection as well as policy developments in China.
China doesn't allow pharmacies or third-party platforms such as Tmall to sell prescription drugs online. While the China Food and Drug Administration has contemplated rules to partly lift the ban, there has been little policy movement for over a year even as companies such as Ali Health keenly await the opening of this vast market.
Wang said his team, meanwhile, has come up with a new model directing online medicine orders to the brick-and-mortar pharmacy closest to the patient, and arranging for pick-up or delivery of the drugs. Ali Health's platform also can help patients get basic answers from pharmacists. The network has been built in more than 20 cities and Ali Health can charge roughly 3 percent for sales that take place through this platform, according to Wang.
Insurance
The consumer safety business is among a string of other initiatives the company expects will revive growth. In April, the company announced it would start an insurance joint venture with China Taiping Insurance Holdings Co., Alibaba and Yuwell Technology. While the new insurer is still applying for its license, Wang hopes it can in the future become the payer for medical services and medicines purchased through Ali Health's platforms.
Ali Health is also partnering with pharmaceutical and medical equipment manufacturers who can use its platform to reach consumers for patient education and marketing, Wang said.
"They need customers, and I can provide them with customers," he said.