business
A Welsh Steel Town Had a Lot to Lose. Why Did It Vote for Brexit?
Declines in rural and industrial communities while London thrived set the scene for a massive protest vote.
By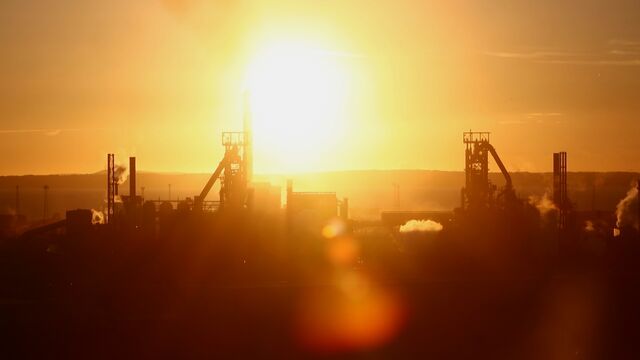 On the eve of the Brexit vote, nearly all official voices were nudging residents of the steel town of Port Talbot, Wales, to vote to remain in the EU: A healthy chunk of the steel produced locally was shipped into Europe, and the EU sent millions of pounds to aid the local economy.
The message came from management at the giant mill, owned by Tata Steel. Union bosses. Local politicians. But those voices from above seemed to only repel residents fed up with the status quo.
Protesting decades of industrial decline while London thrived, 57% of the 75,652 people who voted in this once proud region of steel production decided to take a chance and leave.
"All I've ever seen was a decline in the steel works," said Andrew Clarke, 30, who finally got a job at the plant two years ago as a crane driver, only to watch his father laid off from the plant this year. "People might maybe losing pensions, maybe losing bonuses, maybe losing holidays."

The town was one of many places across England and Wales where people voted against what a host of experts and government officials said were their own self interests, in favor of an unknown alternative. In Sunderland, where Nissan employs 6,700 autoworkers on the northeast coast of England, Leave won 61% to 39%. In Cornwall, after its residents voted to leave, local officials asked for reassurance after the vote that £60 million ($80 million) in annual EU support would be replenished.
In some of these areas, laborers have watched manufacturing industries fade, under threat from free trade in a globalized world - a danger that didn't seem to exist in a golden age before the U.K. joined the EU. They receive more money back from the EU than they send to Brussels, but there's a perception that there are intangible downsides that have set them up to require that financial support to survive.
The bulk of Port Talbot's fate is tied to the steelworks, which stretches along the south coast of Wales and employs 4,000 people at round-the-clock operations that keep white smoke billowing high into the air.

For most of the 20th century, the steelworks grew. In 1971, 320,000 people worked in steel across Britain, not including processing, according to a House of Commons Library report. But for the past 40 years the number of jobs decreased, in huge chunks and slow drips. Processes became automated, and competition from China increased.
In January, Tata Steel, the Indian company that bought the operations in 2007, said it would cut 750 jobs.
"In this area, we've been given a lot of false promises over many, many years," said Darren Nichols, 38, who describes his work as a community activist and freelance public relations. He voted to leave. "All the politicians came along for photo opportunities, but nothing was delivered."
After the financial crisis, austerity took a bite into Port Talbot. Year after year, millions in U.K. budget cuts have led to campaigns to try to save libraries and community centers. "It feels quite bleak," said Rachel Howells, editor of the local newspaper, the Port Talbot Magnet. "They don't know what's going to happen next, and they don't know what those opportunities might be for them and their children and what the future might bring."

Things had gotten so bad, Tata has been brought to the brink. In March, it said it would try to sell the plant. Now, that plan has been thrown into doubt. Tata has temporarily halted the sale after many bidders pulled out, people with knowledge of the matter told Bloomberg. 
In the short term, Brexit might actually be good for Tata: The pound's 10% slump against the euro should help exports to Europe, said Eily Ong, a Bloomberg Intelligence analyst. There are many other medium- and long-term uncertainties, including whether the next government will retain the current leadership's pledge of hundreds of millions of pounds of support, Ong said. 
Myra Mizan, whose husband worked at the steelworks for 37 years, said she was sick of seeing local services going downhill. She notices little things, like the grass not being cut. But she has larger concerns, such as the quality of the National Health Service, Britain's public health-care system.
"It's not like it used to be," she said. "Doctors would call to the house before now. There's so many people and not enough doctors and nurses to go around."
The situation isn't dire. Weekly wages have actually grown slightly more in the area since 2002 than in the rest of Great Britain. Downtown, most of the shopfronts are occupied, albeit by a mix including charity shops or discount stores. 
Unemployment in the region in 2015 was 6.3%, a bit higher than the national average of 5.2%. For men, the problem is much worse: 8.2% of men in the Neath Port Talbot area were unemployed in 2015, above the national average of 5.3%, according to the Office of National Statistics.

The area is poor enough to receive financial support from the EU. Although the U.K. as a whole sends more money to Brussels than it gets back, the reverse is true for Wales. The country's share of the U.K.'s contribution to the EU was £414 million, but it received £658 million back for projects such as roads, university buildings and job training, according to an analysis from the Wales Governance Centre at Cardiff University. That works out to about £79 per person in Wales.
Dale George, 29, a barber in downtown Port Talbot, said he voted to remain and will miss the EU money that funded local projects.
"I think it's a catastrophic mistake," he said. "It's going to have massive repercussions that people are just not aware of. I think they made a huge mistake, not knowing what they voted for."

Other residents said a new highway or piecemeal job training were token gestures that didn't help build a sustainable future.
Clarke said he was influenced by people who said the EU was blocking higher tariffs on Chinese steel. Chinese steel exports have increased about 90% since 2013. Over that same period, European steel prices have fallen about 44%.
That argument frustrated Bethan Jenkins, 34, who represents the area as an elected member of the National Assembly for Wales. The U.K. in the past objected to higher Chinese steel taxes and more recently has supported the current regime. Jenkins said the EU was getting blamed for local decisions. "There was no guarantee that coming out of the European Union would be able to instantly rid the U.K. or Wales of this problem," she said.
Andrew O'Connor, a union branch chairman representing about 300 to 400 workers, said he didn't give blanket instructions to members on how to vote but communicated that he thought it would be best to remain in the EU.
"The free market with Europe, while it's not ideal, it's helpful," O'Connor said he told them.
But it didn't seem to register. "They're just hell bent on the immigration issue, that's what we're picking up," he said.
In the greater Neath Port Talbot area, immigrants made up less than 3% of the population, as of the most recent census in March 2011. Nearly 99% of residents were either born there or had arrived prior to 2001.
Still, Alf Hayes, 67, a retired steelworker, said immigration across the U.K. - not just Wales or Port Talbot - was the top concern for him and his wife.
"The fact that we couldn't stem immigration from people in the EU and the likelihood of the Middle East people coming here, and Afghans and Turks," he said. "It was worrying that it would disbalance - unbalance - the natural mix of people."
The results were often described as residents' first chance to lodge a "protest vote" in an area dominated by the Labour Party, which has held the local MP seat since 1922.

Hayes said he hadn't even thought much about the EU until the referendum. "It wasn't until the campaign highlighted the sort of deficiencies and the problems and the costs that's affected us," he said.
Today there are some signs of regret: A post-referendum poll showed that a big enough chunk of Leave voters would have voted Remain in a second referendum to change the outcome.
It's not easy to find Leave voters willing to speak publicly about their reasons. Some steelworkers said they were worried about reprisals from Tata. Nichols, the community activist, said people were fearful of giving their opinion, given the backlash that erupted after the vote, including reports of potential hate-crimes.
"A lot of these Leave voters have gone underground, they've gone quiet," Nichols said. "Even the Leave side, nobody feels like winners at the moment, because there's so much chaos."
Before it's here, it's on the Bloomberg Terminal.
LEARN MORE