U.S. Service Industries Expand at Fastest Pace in Seven Months
by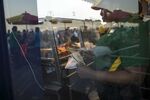 American service providers expanded in June at the fastest pace in seven months on stronger orders and sales that signal a healthy U.S. economy.
The Institute for Supply Management's non-manufacturing index jumped to 56.5, exceeding the most optimistic projection in a Bloomberg survey, from 52.9 in May, the Tempe, Arizona-based group's report showed Wednesday.
The gauge of service producers from construction firms to retailers posted its biggest monthly advance since February 2008, helped by resilient consumer spending. Combined with an already reported pickup in manufacturing, the data suggest the U.S. economy was gaining speed leading up to Britain's decision to exit the European Union.
Americans' Spending Seen Solid
"Consumers are looking pretty good," Sophia Kearney-Lederman, an economic analyst at FTN Financial in New York, said before the report. "They seem to be carrying the second-quarter rebound."
Readings above 50 in the ISM non-manufacturing index, which includes industries that account for almost 90 percent of the economy, signal growth. Fifteen of 18 industries reported growth in June, including mining, entertainment, retail and real estate.
The median forecast of economists surveyed by Bloomberg called for 53.3, with estimates ranging from 51.5 to 55.
Domestically Driven
"We had a couple months in there with some cooling off, but now with this nice pop up here, we'll see how sustainable it is going forward," said Anthony Nieves, chairman of the ISM non-manufacturing survey. "When you look at what's going on domestically, that is predominantly what's driving this acceleration."
The ISM's factory survey published last week indicated that a nascent recovery in the beleaguered manufacturing industry also may be taking shape. The index climbed to 53.2, the highest level since February 2015, boosted by stronger bookings and production.

"A pickup in manufacturing is a good sign for the service sector as well," Kearney-Lederman said. "Manufacturing has been hit hard by the strong dollar and weak global demand, and it was only so long that services could weather that slowdown as well."
Details from the services survey showed the new orders index climbed to 59.9 in June from 54.2. The increase in the more forward-looking gauge was the biggest since March 2010 and shows the economy caught a spark as the second quarter drew to a close.
The group's business activity index, which parallels the ISM's factory production gauge, increased to 59.5 from 55.1.
A measure of non-manufacturing employment advanced to 52.7 in June from 49.7 the prior month, indicating more companies are adding workers. Twenty-nine percent reported an increase in employment, the most since July 2015. The reading may color economists' forecasts for the June jobs report on Friday.
Supplier Deliveries
The ISM supplier-deliveries index rose to 54 last month, the highest in more than a year, from 52.5. A reading above 50 means deliveries slowed, which is a positive signal as it indicates companies had trouble keeping up with demand.
The services report is a reflection of resilient consumer spending, which economists expect will fuel a rebound in growth following a weak start to the year.
While the U.K.'s decision to leave the EU remains a risk, a separate ISM poll showed most purchasing executives in both the services and manufacturing sectors expect little impact on their operations and staffing levels this year from the vote.
Still, consumers will need reassurance that the labor market recovery remains on track to ramp up their spending. Payrolls probably increased by about 180,000 in June, according to a median projection of economists surveyed by Bloomberg. That would be a welcome rebound following the weakest two months of job growth since early 2011.
Before it's here, it's on the Bloomberg Terminal.
LEARN MORE