U.S. Stocks Advance Amid Drug-Maker Rally as Caution Subsides
By and
Fed minutes show heightened uncertainty on job data, U.K. vote

Banks, commodity shares rise after erasing early losses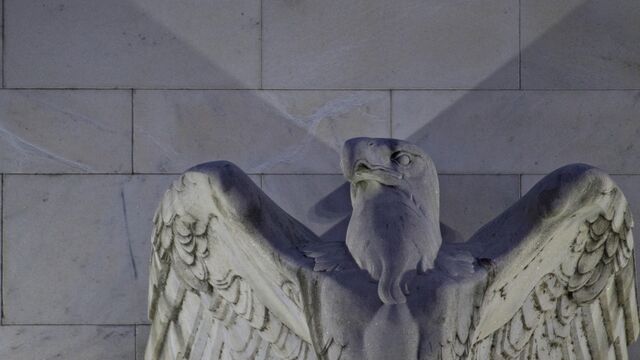 U.S. stocks advanced, led by gains among drug companies, as cautious sentiment eased amid speculation the American economy can weather the impact of the U.K.'s decision to leave the European Union.
Equities shook off early weakness as biotechnology shares rallied to lift the health-care group to the highest this year. Retailers rose after data showed the fastest expansion in services industries in seven months. A Goldman Sachs Group Inc. basket of most shorted shares surged for the fifth time in six days, rising 9.2 percent over the period. Phone companies fell for a second day after reaching levels not seen since 2001.
The S&P 500 Index increased 0.5 percent to 2,099.73 at 4 p.m. in New York, after erasing a 0.7 percent drop and reversing most of Tuesday's slide. The gauge halted declines today near its average price during the past 50 days, a key level watched by technical analysts. The Dow Jones Industrial Average added 78 points, or 0.4 percent, to 17,918.62, wiping out a 127-point drop. The Nasdaq Composite Index rose 0.8 percent, supported by the biotech rally.
"You're looking at a market that's lacking direction right now," said Michael Antonelli, an institutional equity sales trader and managing director at Robert W. Baird & Co. in Milwaukee. "The primary driver for concern is what it always is -- a slow growth backdrop. We're in a no-man's land before the next Fed meeting and the kick-off of earnings next week."

American equities overcame a retreat in global markets, which fell as knock-on effects of Britain's vote start to materialize. Anxiety has increased over the potential for instability to spread after at least five asset managers froze withdrawals from U.K. real-estate funds following a flurry of redemptions, while data on Wednesday showed German factory orders were unchanged in May, disappointing forecasters who had called for an increase.
"When we think about Brexit, we really think that it's much more of a local U.K. issue and that it becomes much less important even as you start geographically expanding, even if you go to the Euro area, to the U.S.," Gabriela Santos, a global strategist with JPMorgan Chase & Co. said in an interview on Bloomberg TV. "It doesn't shift our allocations, it doesn't shift our view of U.S and European investing, so we haven't materially changed in the aftermath of Brexit."
Before yesterday's decline, the S&P 500 capped its strongest weekly rise since November, boosted by assurances that central banks are prepared to loosen monetary policy to limit the fallout from Brexit. The benchmark is trading at 16.6 times estimated earnings, a higher valuation than the MSCI All-Country World Index and above its own three-year average.
The main U.S. equity index has whipsawed in the past month, twice climbing within 1 percent of a record in June, including the day before the U.K. referendum's result. It then lost 5.3 percent in its worst two-session rout in 10 months before a four-day rally nearly erased those declines. The S&P 500 closed Wednesday 0.6 percent below its level before the Brexit selloff.
The CBOE Volatility Index fell 4 percent Wednesday to 14.96, after eliminating an early 9.4 percent surge. The measure of market turbulence known as the VIX on Friday posted its biggest-ever weekly decline, down 43 percent. About 7.4 billion shares traded hands today on U.S. exchanges, 2 percent above the three-month average.
Fed Minutes
Minutes today from the Federal Reserve's June meeting showed heightened uncertainty as officials were concerned by a hiring slowdown and thought it prudent to wait for the Brexit vote before a rate move. While policy makers agreed they shouldn't overreact to one or two job reports, the implications of recent data were viewed as "uncertain," the minutes showed. Most officials judged that they needed more information on employment, production and spending.
At their session last month, several Fed officials lowered their expectations for the number of times they'll increase rates this year, though the median projection held at two. They also reduced their estimate for the longer-run Fed funds rate, indicating they believed the economy's potential growth rate had dropped meaningfully, even before the U.K. referendum on June 23.
"The main takeaway from the minutes is the uncertainty in the mind of the Fed has increased, which we can all understand given the weak May jobs data and recent U.K. referendum," said Jon Adams, portfolio manager at BMO Global Asset Management in Chicago, where he helps oversee $217 billion. "This is another sign that the Fed's not going to do too much to upset the apple cart. They're looking for any excuse not to raise rates at this point."
Traders have pushed back bets for the next Fed interest-rate increase, with odds for a move at less than 42 percent until at least 2018. As investors and policy makers scrutinize data to assess the sturdiness of growth, a report today showed service providers expanded in June on stronger orders and sales that signal a healthy U.S. economy.
Another earnings season will also soon vie for investors' attention, with Alcoa Inc. unofficially launching the second-quarter reporting period next week. Analysts predict a profit decline of 5.4 percent compared to a year ago for companies in the S&P 500, which would mark a fifth-straight quarterly drop, the longest streak since 2009.
In Wednesday's trading, eight of the S&P 500's 10 main industries rose, with health-care adding 1.2 percent, while consumer discretionary, energy and technology shares gained at least 0.5 percent. Phone companies fell 0.4 percent, paring a drop of as much as 1.9 percent.
Celegene Corp. and Vertex Pharmaceuticals Inc. advanced more than 3.6 percent, among the strongest performers in health-care. Vertex announced a $40 million dollar upfront investment with Moderna Therapeutics Inc. for a cystic fibrosis treatment. The Nasdaq Biotechnology Index rose 2.3 percent to a three-week high. In a note today, Leerink Partners LLC forecast biotechs will post "strong" quarterly results. Merck & Co. increased 2 percent to an almost 11-month high, while AbbVie Inc. added 2.3 percent.
Retailers, Builders
Bolstering gains in retailers, Amazon.com Inc. rose 1.3 percent to a record amid its longest winning streak in more than two months. Home Depot Inc. climbed 1.7 percent and Bed Bath & Beyond Inc. gained 3.1 percent. Among other consumer discretionary companies, a gauge of homebuilders increased 2.1 percent to a four-week high as D.R. Horton Inc. and Toll Brothers Inc. advanced at least 2.4 percent.
Banks in the benchmark index wiped out a 1.4 percent drop, rising 0.9 percent for the first gain in three days. Zions Bancorporation and Regions Financial Corp. added more than 2.1 percent, while SunTrust Banks Inc. increased 1.7 percent.
Raw-materials producers edged higher after erasing a 1.1 percent slide. Martin Marietta Materials Inc. jumped 4.4 percent, the strongest in four months, to an all-time high. Newmont Mining Corp. rose 2.6 percent as gold climbed to to a two-year high.
American Airlines and United Continental Holdings Inc. slumped at least 2 percent, trimming earlier declines of more than 6 percent, after Credit Suisse Group AG cut its ratings on the carriers. The Bloomberg U.S. Airlines Index has tumbled 24 percent in 2016, putting it on track for the largest annual decline since 2011.
Among other shares moving on corporate news, Netflix Inc. lost 3.4 percent after Jefferies Group LLC downgraded the shares to underperform, similar to sell, citing concerns about the trajectory of subscriber growth.