Traders Pile Into Swaps Insuring U.K. Company Debt After Brexit
By
CDS prices, trade volumes on Next, Marks & Spencer, banks rise

Swaps trading on Rolls-Royce surged sixfold in week after vote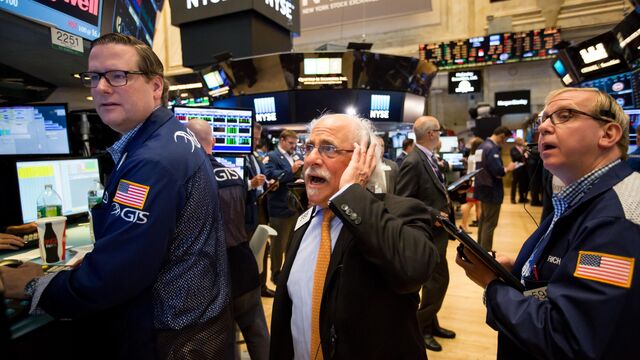 Traders are buying and selling more credit protection on U.K. companies after Britain's vote to exit the European Union.
The volume of credit-default swaps changing hands in the week through July 1 surged, compared with the week of the June 23 referendum, according to data from Depository Trust & Clearing Corp. Trades covered almost seven times as much debt of fashion retailer Next Plc as the week before, while those on Marks & Spencer Group Plc rose threefold and contracts on bank bonds also climbed.
Investors are building positions to insure against losses on British banks and retailers amid concern that the vote to leave the 28-nation bloc will send the economy into recession. U.K. property funds with more than 15 billion pounds ($19.5 billion) of assets froze withdrawals as investors sought to dump real estate holdings and the pound plunged to a 31-year low this week.
Stress Sectors
"Swaps on U.K. companies aren't normally a busy segment for trading," said Michael Hampden-Turner, a default swaps specialist on the credit trading desk at HSBC Holdings Plc in London. "A lot of people want to hedge exposures or shift from old strategies into new ones. They're looking at sectors that would come under particular stress in a prolonged Brexit scenario and that's retailers and the banks with the most U.K. exposure."
Credit-default swaps covering a gross $202 million of Next's bonds traded in the week through July 1, compared with $29 million the week before, according to DTCC data. Contracts insuring Marks & Spencer Group Plc's debt rose to $242 million, while those on Barclays Plc climbed 50 percent to $590 million and swaps on Royal Bank of Scotland Group Plc rose 87 percent to $331 million, the data show.
The cost of insuring U.K. corporate debt rose along with trading volumes, according to data compiled by Bloomberg. Credit-default swaps on Next rose to an almost four-year high of 128 basis points on Thursday, while those on Marks & Spencer climbed to a three-year high of 188 basis points. Barclays and RBS reached the highest levels since 2013 this week.
Trades covered $331 million of debt sold by Rolls-Royce Holdings Plc, the U.K.'s biggest manufacturer, more than six times the previous week's volume, DTCC data show. The company has said the country's decision to leave the EU will have no immediate effect on its business.
"Around episodic events like Brexit, credit-default swaps can become more liquid with lots of people expressing views," said Simon Colvin, a London-based research analyst at Markit Ltd. "We can see that in the pick-up in volumes."
Before it's here, it's on the Bloomberg Terminal.
LEARN MORE