Trump's Running Mate Options Shrink as Corker Withdraws Name
By and
Another contender, Joni Ernst, says she is not being vetted

Decisions leave Trump eyeing smaller pool of candidates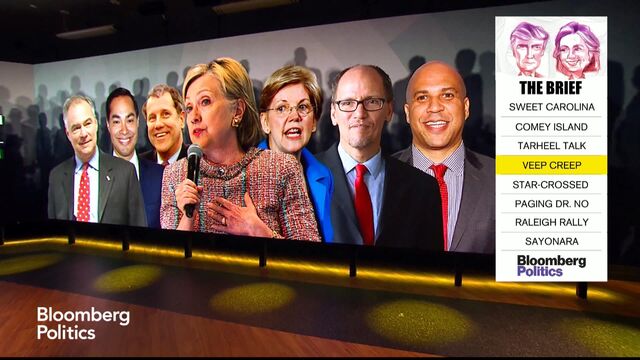 Tennessee Senator Bob Corker has withdrawn his name from consideration as Donald Trump's running mate, a move that deprives the Republican establishment of a contender who could have added experience and gravitas to the ticket.
QuickTake Electing a U.S. President
The pool of Trump's vice presidential choices keeps shrinking. The billionaire is unlikely to pick potential contender Senator Joni Ernst of Iowa, who confirmed Wednesday that the Trump campaign didn't ask her to fill out documents as part of the official vetting process.
Another option, New Jersey Governor Chris Christie, may be too politically risky, given the continuing fallout from his role in the George Washington Bridge scandal. The incident is back in the news as two ex-allies of Christie are expected in court Thursday seeking more evidence from prosecutors, including a missing phone he used to send texts during legislative hearings on the 2013 traffic jams.
Corker, 63, chairman of the Foreign Relations Committee, has been a rare senator willing to praise Trump on occasion, though he has also criticized the candidate's proposed ban on Muslim immigration. Corker has sought to nudge Trump closer to the mainstream of Republican political discourse, with little apparent success.
The senator, who had been considered among Trump's top choices, said he informed Trump on Tuesday of his decision, first reported by the Washington Post.
"I very much appreciated being considered in that way," Corker told reporters at the Capitol on Wednesday. "I just felt I was far more suited for other kinds of service."
Campaign Appearance
Corker appeared with a Trump at a rally on Tuesday in North Carolina, offering brief remarks in support of the candidate.
Corker said he told Trump and his family at the start of what would have been a day-long vice presidential tryout that he didn't think he was suited for the role, and instead they discussed other potential candidates and variety of other issues. Corker declined to divulge the names they discussed, but said it's very important that someone be able to help Trump in the House and the Senate.
"I think it's likely he'll use every second until the 15th" of July, Corker said, for Trump to decide on a running mate.
Corker added that he would consider another post in a Republican administration, but said it would be "presumptuous" of him to discuss positions when a reporter asked about secretary of state.
He also said he is firming up plans to secure a speaking slot at the party's nominating convention later this month, and that Trump is planning to have a large number of brief speeches.
"Fortunately for the public, I think the way it's all being organized is there are like very short speeches, five minutes, none of this droning on by really boring people," Corker said. "It's going to be much more choppy and I think people will like it much more."
'Frittered Away'
After Trump's attack on the Mexican ancestry of the judge overseeing a civil case against him involving Trump University, Corker sounded anguished at the damage Trump was doing to his electoral prospects. He said he still backed Trump as the only person in the race who could shake up the status quo in Washington.
"I just hope that somehow he will change the way they are going about this campaign," Corker told reporters in June. "He has this tremendous opportunity sitting in front of him. I just hate to see that possibly frittered away by comments that have no place in the public domain."
Corker said Wednesday that he's seen a "marked difference" from Trump in the past couple of weeks but said the campaign still needs to be organized and have fewer unforced errors.
He also said that the image of Donald Trump and the reality of the man in person are sharply different. "He's very much a gentleman," Corker said.
During the Republican primary, Ernst favored Marco Rubio and was cool toward Trump in her comments to the press. But after her Fourth of July meeting with Trump at his private golf course in Bedminster, New Jersey, she said she had a new opinion of him.
"I think, wow, if everybody had the opportunity they would maybe see a different side of Donald Trump. I was very impressed with the thought and consideration he was putting into the topics we discussed," she said in an interview Wednesday.