Ryan Squeezed From Both Sides on Terror-Related Gun Measure
By and
Republicans criticize Ryan's response to pressure on guns

Unhappy Democrats scrap sit-ins and start planning other moves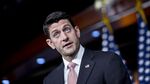 Speaker Paul Ryan said Wednesday that he is pressing ahead with plans for a House vote on a terrorism package that faces heated objections from both sides of the aisle over a gun-control provision.
But several Republicans said that Ryan could scrap the vote amid a revolt by conservatives, who have rejected the provision citing constitutional concerns. Democrats, who staged a sit-in last month to force votes on gun-control measures, say Ryan's measure doesn't go far enough and are mulling additional protest tactics. 
The potential stalemate reflects how unruly the House has become, with tension only heightened in the wake of the Democratic sit-in.
Representative Louie Gohmert of Texas said that he isn't happy to see gun legislation coming to the floor after Democrats' historic -- and rule-violating -- overnight sit-in.
"It is the responsibility of the majority party to enforce the rules," he said. "So far the only consequence that we've seen is that we're going to get a gun vote."
Waiting Period
The measure Ryan is backing, H.R. 5611, would establish a three-day waiting period for people on the terror watch list to get a gun, during which the government could go to court and seek an order to block the sale. 
"I don't see a vote as happening this week," said Representative Dennis Ross, a Florida Republican who is a senior member of the whip team. 
His comments were echoed by others, including Representative Dave Schweikert of Arizona, who said it was already Wednesday and serious talks about how to resolve perceived problems with the bill have not even started. Even so, a spokesman for the bill's sponsor, Majority Leader Kevin McCarthy, said he is not aware of any decision to delay or scrap a vote.
The uncertainty over whether the vote will occur is leaving Democrats in strategic limbo over their own next moves in trying to force votes on gun control measures that they consider more meaningful. 
No More Sit-Ins
Additional sit-ins on the House floor have been ruled out by party leaders, several Democrats said on Wednesday. But they are considering procedural and other maneuvers that could extend into next week -- including tactics to delay the House's scheduled adjournment for a seven-week recess on July 15. The following week is the Republican National Convention.
Democrats plan to participate in a vote set for later Wednesday on a mental illness bill, sponsored by Representative Tim Murphy of Pennsylvania and aimed at trying to prevent gun violence by identifying and treating serious mental illness in would-be perpetrators. 
"Why not move forward and demonstrate we can work together?" said Representative John Larson of Connecticut, who was one of the leaders of the Democratic sit-in two weeks ago, about that bill, which has been worked on by both parties.
But Larson said Democrats haven't abandoned their fight to get votes on gun bills they want, and several strategies are still being considered.
"This is real-time decision making," said Representative Steve Israel of New York, saying events are shifting Democratic strategy.
'Path Forward'
Ryan told reporters Wednesday morning that he still intends to hold a vote on the gun measure and that leaders would make sure the gun provision doesn't violate the Constitution. He held up a pocket version of the document for the cameras.
"I think there is still a path forward," Ryan said. "We want to make sure we get it right. The last thing we're going to do is rush something to the floor that we don't have right."
But he called it "commonsense" to keep guns from suspected terrorists.
Representative Darrell Issa of California said there's already a 10-day waiting period to buy a gun in his state, and noted police can already hold people for 72 hours. Three days, he said, "is not a very long time."
'Absurd' Requirement
But others, like Gohmert of Texas, called it "absurd" to empower the attorney general to keep guns from people on a secret list with a requirement for a court ruling within three days.
Ryan and McCarthy are set to meet with the House sergeant-at-arms Wednesday afternoon to discuss whether Democrats committed any wrongdoing during the sit-in that could lead to sanctions. Democrats insisted that prospect isn't prompting them to abandon sit-ins as a tactic.
Since Tuesday, Democrats have been marching to the floor in regular intervals to talk in short bursts about gun legislation. And on Wednesday, Minority Leader Nancy Pelosi and other Democrats held a rally with victims of gun violence on steps outside the U.S. Capitol, attracting about 300 people. This is aimed at keeping the gun issue in the public eye, Democrats said.
But other Democrats said they realize that other tactics may not have the impact of sit-ins. One senior Democrat said the crucial juncture in pushing for the votes Democrats want could come next week -- as Republicans are rushing to adjourn for the summer.
Before it's here, it's on the Bloomberg Terminal.
LEARN MORE