Bruised Pound Makes U.K. Megacap Profits Look a Whole Lot Better
by and
FTSE 100 sees sharpest profit-estimate upgrades since 2005

Weak currency could boost earnings at Rolls Royce, Burberry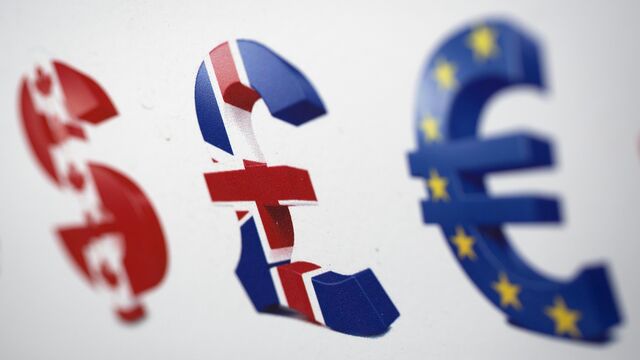 It took a Brexit vote for equity analysts to pay attention to the pound.
While the U.K. currency was under pressure at the start of the year, it's the plunge after the country's vote to leave the European Union that has translated favorably into profit forecasts for the FTSE 100 Index, a gauge crowded with megacaps that generate most of their sales overseas. Estimates for the next 12 months shot up by as much as 4.5 percent in just over a week, the sharpest such upgrade in more than a decade, data compiled by Bloomberg show.
Equity investors, strategists and now analysts are all singing the same bullish tune when it comes to the largest U.K. companies: a weaker sterling will provide a welcome cushion for FTSE 100 profits beset by declines at banks and commodity producers this year. With its multinationals tempering the effect of a potential recession at home, the gauge is Europe's best-performing benchmark this year -- in local-currency terms, that is.
"It's really just an optical accounting boost," said Leigh Himsworth, who manages about $100 million of U.K. equities at Fidelity International in London. "The overseas earners are a relatively safe place to be at the moment. It's the speed of the move that caught a lot of people out. It was difficult to factor in the pound move due to it really being a surprise."

In 2016, analysts say, profits at FTSE 100 companies will contract 5.7 percent, better than a June 24 forecast for a drop of 8.5 percent. During the same period, they cut their estimates for both the Stoxx Europe 600 Index and the S&P 500 Index, data compiled by Bloomberg showed. In the next 12 months, analysts project earnings of about 417 pounds per share for firms on the U.K. gauge, versus just over 390 pounds in April.
To read more on the U.K. stock rally after Brexit, click here.
Should sterling remain lower for the rest of 2016, it will improve sales at Rolls-Royce Holdings Plc by about 400 million pounds ($518 million) and add 40 million pounds to profits, the company said on June 28. Associated British Foods Plc jumped 7.5 percent today after raising its annual earnings forecast, citing favorable currency translation.
Foreign-exchange effects after the Brexit vote prompted analysts at Citigroup Inc. to upgrade their rating on Compass Group Plc, a catering company that relies on North America for more than half its income. A 10 percent drop for the pound could boost Burberry Group Plc's profit by as much as 90 million pounds, according to MainFirst Bank AG. Unilever, whose shares have gained 14 percent since the vote to near a record, is among the country's first megacaps to report half-year earnings on July 21.

Unhedged foreign investors are unlikely to have benefited from the FTSE 100's rebound -- in dollar terms, the index is still down 11 percent since the vote through yesterday. In local currency, the gauge is up 8.1 percent from last week's bottom and near an 11-month high. By comparison, the Stoxx 600 has gained less than half as much and remains below its June 23 level. The pound weakened to a fresh 31-year low against the dollar on Wednesday, and to its lowest level versus the euro since August 2013.
"Investors have looked through the weakness of the sterling and said, 'Well, FTSE 100 companies tend to have most of their revenues abroad, their balance sheets and profits will benefit over the next quarter, year or so,'" said Ben Kumar, who helps oversee about 10 billion pounds at Seven Investment Management in London. "It's an international index, so it has avoided the drawdowns that we've seen on European markets."
Before it's here, it's on the Bloomberg Terminal.
LEARN MORE