Online Luxury Retailer Braces for U.K. Import Duties Post Brexit
by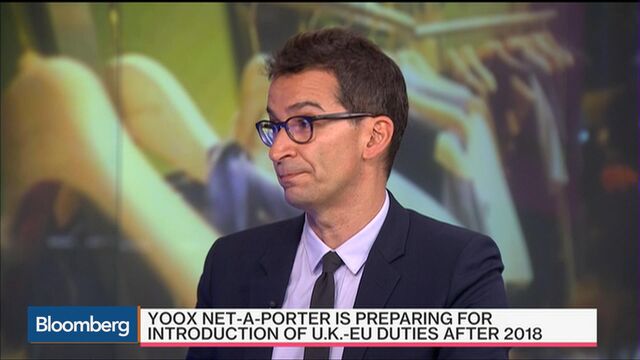 Online luxury retailer Yoox Net-a-Porter is preparing for the introduction of duties for importing goods to the U.K. from the European Union following the country's vote to leave the bloc.
"The potential risk has been taken into account starting from 2018," YNAP Chief Financial Officer Enrico Cavatorta told reporters Wednesday before a presentation to investors in London. "We don't know how the negotiations between the U.K. and the EU authorities will end up."
The risk of import duties highlights another potential hurdle for companies already grappling with slowing demand and growing economic uncertainty. YNAP, based in Italy, expects the impact to be limited to about 10 percent of the cost of goods sold by 2020, Cavatorta said. The estimate assumes that it doesn't raise prices in Britain to mitigate the effect, he said. The U.K. accounted for 16 percent of YNAP sales last year, according to Citigroup Inc.
YNAP will keep expanding and hiring in London even after the U.K. voted to leave the EU, Chief Executive Officer Federico Marchetti also said. While revenue growth this year will be held back by sterling's decline versus the euro, the currency shift will have a neutral impact on earnings, he said. YNAP is aiming to more than double sales to as much as 4.1 billion euros by 2020.
"We were surprised, but we were not taken by surprise" by the Brexit vote, Marchetti said. "We have been scenario planning for a while."
The company's cost of goods sold was about 1 billion euros last year on a pro forma basis.
YNAP is seeking to capture 11 percent to 12 percent of the online personal luxury-goods market that it sees reaching about 34 billion euros by 2020. It targets annual revenue growth of 17 percent to 20 percent at constant currency rates, with a large part of that coming from orders placed by smartphones and tablets. Those will account for about three-quarters of sales by 2020, up from about a third in 2015, YNAP forecasts.
Before it's here, it's on the Bloomberg Terminal.
LEARN MORE