Messi's 21 Months in Prison Is Another Penalty He May Miss
by and
Under Spanish law, player unlikely to serve jail sentence

Athlete's father also sentenced to 21-month term in ruling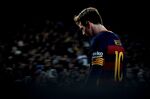 Barcelona soccer star Lionel Messi, the record five-time world player of the year, was handed a 21-month Spanish prison sentence for tax fraud that he's unlikely to have to serve.
Messi will also have to pay about 2.1 million euros ($2.3 million) in fines for evading taxes between 2007 and 2009, according to an e-mailed statement Wednesday from the court in Barcelona that sentenced him. His father, Jorge Messi, was also handed a 21-month sentence and will have to pay about 1.6 million euros in fines.

Messi probably won't to have to serve the sentence. Spanish judges typically don't enforce jail terms of less than two years if the person convicted doesn't have a criminal record. Messi's lawyers plan to appeal, Spanish newspaper El Pais reported.
Messi, who resigned last month from the Argentine national team after missing a penalty in a loss to Chile in the final of the Copa America, had in court alleged that he was not aware of the tax evasion because he only played soccer and left it to his father to manage his finances. In turn, Jorge Messi said he acted on advice given to him on the tax issues.
Messi had said in court that he didn't know about decisions taken on the use of his image rights, the ruling said. "He only played soccer, the decisions taken were those of the lawyers and he never asked his father anything because he trusted him," the ruling said, citing Messi's arguments given in court.
His club said it would continue to support Messi. Barcelona FC "continues to be at the disposal of Leo Messi and his family to support him in whatever action he decides to take in defense of his honesty and his legal interests," it said in an e-mailed statement, adding that he was "in no way criminally responsible."
Adidas AG, which makes Lionel Messi soccer cleats, said in an e-mailed statement that "Leo remains a very important global ambassador" for the company.
Prosecutors filed a complaint in 2013 against the Messis that alleged that the now 29-year-old player and his father evaded 4.2 million euros in taxes over three years on endorsement payments from Adidas, PepsiCo Inc., Procter & Gamble Co. and other companies.
The Messis have since paid 5 million euros, the amount prosecutors say they evaded, plus interest. According to prosecutors, Jorge Messi oversaw the use of companies in Belize, the U.K., Switzerland and Uruguay to divert money away from the Spanish tax authorities.
Before it's here, it's on the Bloomberg Terminal.
LEARN MORE