Kevin Durant Seen as Nike's Golden Ticket in Bay Area Market
By
The NBA player turned down a deal with Under Armour in 2014

Analyst says Durant's jersey sales could rise as well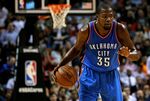 Golden State Warriors fans are excited for superstar Kevin Durant to join the team. For Under Armour Inc., probably not so much.
Durant, 27, said on Monday he would take his talents -- and 10-year Nike Inc. endorsement -- to the San Francisco Bay area from Oklahoma City. The move brings the former most valuable player to a higher-profile team for greater exposure, especially if the Warriors win another championship, analysts say.
"It's not just about Kevin Durant changing teams -- it specifically helps Nike mute this Under Armour attack in the San Francisco market," said Scott Becher, executive vice president of sports and entertainment at Zimmerman Advertising.
Durant's new teammate Steph Curry has become Under Armour's marquee endorser after Nike failed to match its smaller rival's offer in 2013. Curry has since been named the league's MVP twice while carrying the Warriors to two NBA Finals and one championship.
Curry's Rise
Since Curry's signing, Baltimore-based Under Armour's market capitalization has grown to $16.1 billion from about $8.8 billion. That's still dwarfed by Nike, which has a $92.7 billion market cap, according to data compiled by Bloomberg.
In addition to Curry, Durant will join Draymond Green, another Nike partner, and Klay Thompson, who signed with Chinese sneaker company Anta Sports Products Ltd. Adding a former MVP to a team that has made the finals two years in a row makes Golden State the favorite to win the championship next year, according to Las Vegas sportsbooks. And that could translate into higher sales.
"Shoe marketers are like athletes: They want to win championships," Becher said. "Both Under Armour and Nike will benefit. It's just that now Nike has the opportunity to bask in the incredible excitement that's taking over the Bay Area."
Durant's Thunder lost to the Warriors in the conference finals this year, letting a three-games-to-one lead slip away. The Warriors went on to lose the championship to LeBron James' Cleveland Cavaliers.
Durant Lags
Durant's inability to snag a ring may be part of why sales of his signature shoes -- which Nike introduced in 2009 -- lag those of Curry and James. Curry's shoes generate about $160 million in annual sales in the U.S., edging out James at $150 million and roughly doubling Durant's $82 million, according to a Morgan Stanley analysis of SportScanInfo data published in March.
Curry's rapid rise has slowed Nike's basketball-shoe business. The sporting-goods giant reported fourth-quarter sales last week that missed analysts' estimates, casting doubt on its ability to meet its goal of $50 billion in annual revenue by 2020, up from about $32 billion now.
Growth Potential
For his part, Durant, who passed up Under Armour to remain with Nike in 2014, cited personal growth as a factor in his decision to change teams.
"The primary mandate I had for myself in making this decision was to have it based on the potential for my growth as a player -- as that has always steered me in the right direction," Durant wrote in an article in the Players' Tribune.
The move also could elevate his personal brand, closing the sales gap with Curry and LeBron, said Matt Powell, a sports industry analyst at NPD Group Inc.
"He certainly could achieve a level of LeBron if they come out with the right product and he performs at a high level," Powell said.
Before it's here, it's on the Bloomberg Terminal.
LEARN MORE