Italy-EU Bank Rescue Talks Said Stuck Over Burden Sharing
By and
Government seeking to use precautionary recapitalizations

Italy could inject as much as 5 billion euros in Monte Paschi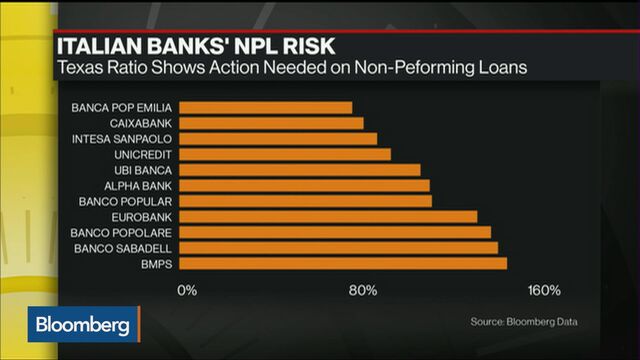 Talks between Italy and the European Commission to recapitalize Banca Monte dei Paschi di Siena SpA and other banks are stuck on whether creditors should face losses if taxpayer funds are used, according to people familiar with the discussions.
Italy favors a precautionary recapitalization under the European Union's bank-resolution rules, which allow governments to bolster lenders when capital gaps emerge in stress tests, said the people, who asked not be identified because the talks are private.
Italy is arguing that its approach would have little or no cost to bondholders because the rules don't force burden sharing over hypothetical losses, one person said. Italy and the Commission are far apart because they interpret the rules differently, the people said. If adopted, the plan could also be used as a template for other lenders, they said.
It's proper for the Italian government to use "all systems of protection" for banks because "there is no solid economy without a solid banking system," JPMorgan Chase & Co. Chief Executive Officer Jamie Dimon said in an interview with daily il Sole 24 Ore. An accord to mitigate rules on state aid without burden sharing could be valid in some circumstances, he said.
Contagion Risk
With about 360 billion euros ($399 billion) in soured loans saddling Italian banks, the government has been sounding out regulators on ways to shore up lenders bruised by a renewed selloff after the British vote to leave the European Union. Lorenzo Bini Smaghi, the former member of the ECB's executive board who now chairs Societe Generale SA, said Wednesday that Italy's banking crisis could spread to the rest of Europe, and rules limiting state aid to lenders should be reconsidered to prevent greater upheaval.
The European Commission said on Thursday that it's in contact with Italian authorities and "based on precedents, there are a number of solutions that can be put in place in full compliance with the EU rules addressing liquidity and capital shortages in banks without adverse effects on retail investors." A spokesman for the Italian Treasury declined to comment.
Under the Italian plan, banks would sell shares or convertible bonds, and the government would agree to buy the securities left unsold, the people said.
Deal Possible
Roberto Nicastro, chairman of four rescued Italian banks, said he's confident that the talks between Italy and the EU will fix the NPL issues. Speaking on Bloomberg Television Thursday, the former UniCredit general manager said he doesn't believe investors will have to take losses under an agreement.
Monte Paschi was down 1.5 percent at 27.5 cents in Milan trading as of 2:10 p.m. after rising as much as 7.6 percent earlier. The stock has lost 78 percent this year compared with a 35 percent decline in the STOXX Europe 600 Banks Price Index. The lender has lost 99 percent of its market value since the collapse of Lehman Brothers Holdings Inc. in 2008.
New Injection
Italy is seeking a recapitalization of as much as 5 billion euros for Monte Paschi to cover losses for complying with a European Central Bank request to cut 10 billion euros in net non-performing loans over three years to strengthen the bank's finances, one person said.
An accord is unlikely before July 29, when results of EU stress tests are published, one person said.
"The coming days will let European authorities reflect attentively on the credit situation on our continent," Prime Minister Matteo Renzi told reporters in Rome on Wednesday.
Monte Paschi's board will meet today to discuss its response to the ECB demand, which is due Friday, the people said. The central bank has told Monte Paschi to offload 40 percent of net non-performing loans by 2018, the bank said in a statement Monday. Monte Paschi, Italy's third-largest bank, had 46.9 billion euros of soured debt at the end of 2015, almost half of which is not covered by provisions.

Italy is also working on a separate plan to help Monte Paschi and other lenders to dispose of their bad debt. Italy's Finance Ministry, state-run lender Cassa Depositi e Prestiti and the Bank of Italy are seeking to boost Atlante, a multibillion-euro fund created to help troubled lenders raise capital and offload bad loans.
Italy would separate the arm of Atlante dedicated to the securitization of bad loans, boosting its funds up to five billion euros, the people said. The fund may be financed by institutions including CDP and pension funds, the people said.
CDP would "play a role" in boosting the fund, Chairman Claudio Costamagna said in a Bloomberg TV interview last week.