Hickenlooper Says He and Clinton Briefly Discussed VP Search
By
Colorado governor says he would consider taking job if asked

Clinton spoke privately with Hickenlooper last week in Denver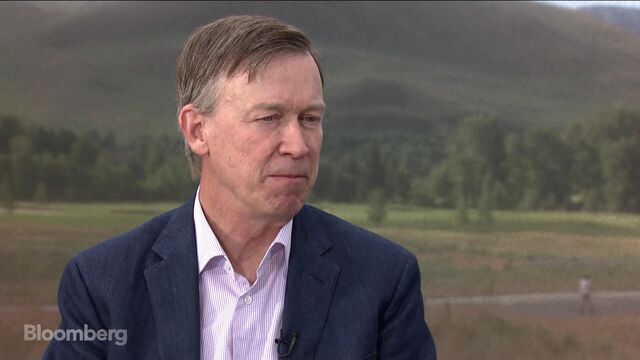 Colorado Governor John Hickenlooper said he and Hillary Clinton "briefly" discussed her search for a vice president during a meeting last week and that he would seriously consider the job if asked.
"If you look at the challenges that this country and the world faces right now, if you're someone who's asked, that you're one of the people that can really make a difference and your country needs you, of course you take it seriously," Hickenlooper told Bloomberg TV's David Gura when asked whether he would entertain a vice presidential bid.
Hickenlooper spoke to Gura during an interview at the Allen & Co. Conference in Sun Valley, Idaho. Clinton is expected to announce her running mate shortly before the Democratic National Convention, which begins July 25 in Philadelphia. Virginia Senator Tim Kaine and Massachusetts Senator Elizabeth Warren are among those said to be under consideration.
Hickenlooper, 64, a former geologist, brewpub owner and mayor of Denver, said that he and the presumptive Democratic nominee for president had briefly discussed the vice presidency when they met for an hour last week for coffee during a visit to Denver to unveil her campaign's technology platform. He didn't elaborate, other than to say that they spend "most of the time" talking about workforce training and how to transition workers experienced in fields with dwindling jobs into new careers.
Before it's here, it's on the Bloomberg Terminal.
LEARN MORE