S&P 500 Slips Amid Rout in Crude as Treasuries Slide With Gold
by and
Global equity gain damped as S&P 500 weighed down by crude

Oil drops below $46 a barrel in New York on government data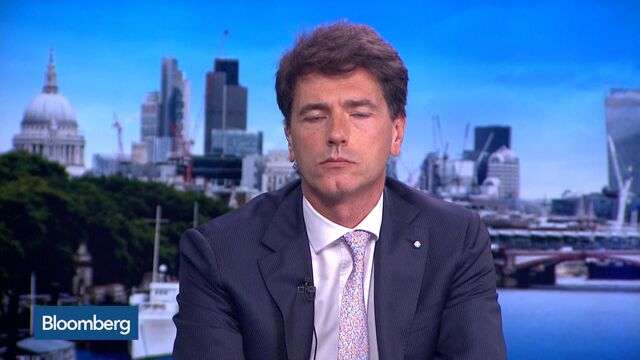 U.S. stocks slipped, damping an advance in global equities, as crude fell to a two-month low on renewed concern of an oversupply in America. Treasuries fell with gold amid easing demand for haven assets before tomorrow's U.S. payrolls report.
The S&P 500 Index slipped as crude sank toward $45 a barrel on government data that showed inventories contracted less than anticipated in the past week. European shares rose for the first time in four days, while emerging-market equities climbed the most in a week. Treasuries retreated, pushing yields higher from unprecedented lows, while a rally in gold faltered. The yen strengthened Thursday.

As global financial markets continued to weigh the fallout from Britain's shock decision to secede from the European Union, attention is shifting to Friday's U.S. jobs report for clues on the Federal Reserve's next policy decision. The central bank mentioned concern that job creation was faltering at its last meeting, though the latest data signaled the U.S. economy may have been gaining speed before the U.K. vote.
"The markets are gyrating, but I think this is just the post-Brexit environment and we're looking for where the new equilibrium levels are and we haven't found them yet," said Kevin Caron, a Florham Park, New Jersey-based market strategist and portfolio manager who helps oversee $180 billion at Stifel Nicolaus & Co. "This is a theme that may stay with us for a while; stock markets aren't cheap, by definition the bond market isn't cheap, and globally the economy is struggling."
For an analysis of Brexit's economic impact, click here
Stocks
The S&P 500 Index fell 0.1 percent to 2,097.77 at 4 p.m. in New York. The index climbed as much as 0.5 percent and fell by an equal amount in a meandering session. MSCI's gauge of global equities rose 0.2 percent Thursday, paring a gain of 0.8 percent.
ADP Research Institute reported Thursday firms added 172,000 jobs in June, more than the 160,000 estimate in a Bloomberg survey, and Labor Department data showed jobless claims unexpectedly declined last week to the lowest level since mid-April.
"We're in this stutter-step economy right now where we get some bright spots from time to time but we're gun shy because we're so used to having these bright spots squashed subsequently by some pretty tough data," said Katie Nixon, chief investment officer of wealth management at Northern Trust Corp. "People are still focused on the Fed and it seems to be capturing a lot of attention and clearly there's an enormous amount of uncertainty."
The Stoxx Europe 600 climbed 1.1 percent, halting the longest losing streak in three weeks. All 19 industry groups advanced, with a gauge of financial services providers climbing 2.1 percent as a group after closing at the lowest level since 2011.
The MSCI Emerging Markets Index gained for the first time in three days, rising 0.8 percent. Benchmarks rose at least 1 percent in Hong Kong, Hungary, Poland, South Africa and South Korea.
Bonds
The yield on U.S. Treasuries due in a decade increased two basis points to 1.39 percent, after sinking to an unprecedented 1.32 percent in the last session. The gap between yields on five- and 30-year debt, a gauge of the yield curve, narrowed to the flattest since April 2015.
Billionaire bond investor Bill Gross said Wednesday that sovereign bonds are "too risky" with yields in many developed markets near all-time lows. German bonds slipped, after 10-year yields touched the lowest level on record on Wednesday. Japan's two-year bond yield dropped one basis point to an all-time low of minus 0.345 percent.
Currencies
The Bloomberg Dollar Spot Index, which tracks the greenback against 10 major peers, rose 0.2 percent. Futures put the probability of the Fed raising interest rates by December at about 12 percent, down from 50 percent at the time of the U.K.'s June 23 referendum.
The Fed minutes "play into our core view that the Fed will now delay a further rate hike until December, at the earliest," Kymberly Martin, a markets strategist in Wellington at Bank of New Zealand Ltd., said in an e-mail to clients. "The market is certainly pricing in 'gradual' rate hikes."
After setting fresh three-decade lows for two days running, the pound is finally getting some respite. Sterling was at $1.2902, after touching $1.2798 Wednesday.
The yen strengthened for a third day, rising 0.6 percent to 100.76 per dollar, taking its post-Brexit rally to 5 percent.
The MSCI Emerging Markets Currency Index advanced 0.2 percent, headed for its first increase in four days. South Korea's won jumped 1 percent. China's yuan strengthened 0.1 percent, after sliding to the lowest level since November 2010 on Wednesday.
Commodities
Oil tumbled to the lowest level in almost two months after the government report showed crude supplies fell 2.22 million barrels in the week ended July 1. West Texas Intermediate slid 4.8 percent to settle at $45.14 a barrel in New York after rising past $48 earlier in the session. Selling accelerated after futures broke through the $45.83-a-barrel June low.
Gold futures fell 0.4 percent to $1,361.50 an ounce in New York. Global gold holdings topped 2,000 metric tons for the first time since July 2013 amid rising demand for havens from the fallout from the U.K. vote.
Before it's here, it's on the Bloomberg Terminal.
LEARN MORE