Carlson's Sex-Harassment Suit Against Ailes Prompts Review
by
'Fox & Friends' ex-host describes hostile work environment

Ailes allegedly called Carlson 'man hater' for complaining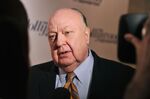 Fox News Channel Chairman Roger Ailes was sued by former anchor Gretchen Carlson, who claimed she was fired last month for refusing his sexual advances and complaining about his conduct. The allegations prompted parent company 21st Century Fox Inc. to begin an internal review.
Carlson's lawsuit depicts a workplace rampant with sexism from Ailes's alleged ogling and innuendos to claims that Steve Doocy mocked her and treated her as a "blond female prop" on "Fox & Friends," where the two were hosts.
Ailes, 76, "sabotaged her career because she refused his advances and complained about severe and pervasive sexual harassment," claimed Carlson, 50, a former Miss America.
Carlson's allegations are false and her lawsuit is retaliation for the network's decision not to renew her contract because her "disappointingly low ratings were dragging down the afternoon lineup," Ailes said in a statement.
"When Fox News did not commence any negotiations to renew her contract, Ms. Carlson became aware that her career with the network was likely over and conveniently began to pursue a lawsuit," said Ailes, who called the complaint defamatory, offensive and without merit and said it will be defended vigorously. "Ironically, FOX News provided her with more on-air opportunities over her 11-year tenure than any other employer in the industry, for which she thanked me in her recent book."
According to Carlson's complaint, Ailes commented on her legs and outfits, while trying to engage her in sexual banter. She also alleged that Ailes said he had slept with three former Miss Americas, but not her. Carlson complained again last September to Ailes about his treatment of her.
She said he responded: "I think you and I should have had a sexual relationship a long time ago and then you'd be good and better and I'd be good and better." He also said "sometimes problems are easier to solve" that way, Carlson claimed.
"The company has seen the allegations against Mr. Ailes and Mr. Doocy," 21st Century Fox said in a separate e-mailed statement. "We take these matters seriously."
In noting that it had started an internal review, 21st Century Fox said it has "full confidence" in Ailes and Doocy, who have "served the company brilliantly over two decades."
Powerful Executive
Ailes is one of the most powerful executives in television news, having built Fox News over the past two decades into a source of more than $1 billion in profit a year. He had served as a media consultant for several Republican presidents.
"Ailes made it clear to Carlson that he had the power to make anything happen for her, if she listened to him" and understood him, according to her complaint.
"I had to stand up for myself and speak out for all women and the next generation of women in the workplace," Carlson said in a statement about her lawsuit. "I have strived to empower women and girls throughout my career."
Doocy, who's not being sued, regularly treated her in a "sexist and condescending way, including by putting his hand on her and pulling down her arm to shush her during a live telecast," Carlson claimed.
'Man Hater'
When she complained to Ailes about Doocy in 2009, the Fox News boss allegedly called her a "man hater" and "killer" who needed to learn to "get along with the boys."

Over several years, Ailes retaliated by reducing Carlson's hard-hitting political interviews, removing her from once-a-week segments on "The O'Reilly Factor" -- Fox News Channel's highest-rated show -- and reassigning her in 2013 to an afternoon slot, according to the complaint. Her compensation was also cut and was far lower than male co-workers, Carlson said.
Ailes fired Carlson on June 23 by failing to renew her contract for "The Real Story With Gretchen Carlson," according to the complaint.
The lawsuit, filed in state court in Hackensack, New Jersey, under the New York City Human Rights Law, seeks unspecified compensatory and punitive damages. Carlson named only Ailes, not Fox, as a defendant.
"As far as we know, Fox did not authorize or put its imprimatur on his behavior," said Carlson attorney Nancy Erika Smith in an interview. "My client's beef is with Roger Ailes, and we have no indication yet that Fox approved or authorized his behavior or thinks it's appropriate."
The case is Carlson v. Ailes, Superior Court of New Jersey, Bergen County (Hackensack).
Before it's here, it's on the Bloomberg Terminal.
LEARN MORE