Clinton Avoids U.S. Criminal Charges as E-Mail Probe Closed
By
Lynch accepts FBI chief's recommendation against prosecution

FBI findings leave fodder for critics of Democratic candidate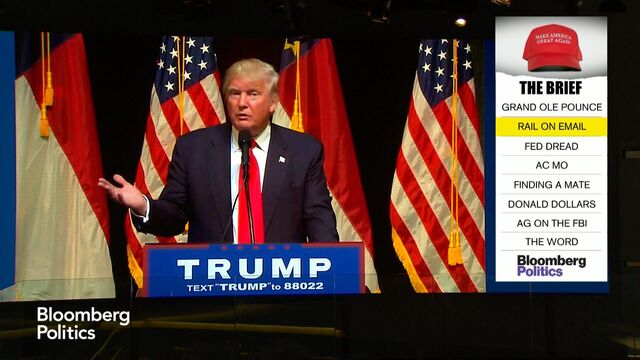 Hillary Clinton won't face criminal charges over her use of private e-mail while secretary of state, as the Justice Department ended a more than year-long investigation that cast a shadow on her campaign for president.
The government's decision was announced Wednesday by U.S. Attorney General Loretta Lynch after she met with Federal Bureau of Investigation Director James Comey and prosecutors to discuss the FBI's findings. While faulting Clinton's handling of communications as the nation's top diplomat, the bureau recommended against prosecuting Clinton and her aides.
"I received and accepted their unanimous recommendation that the thorough, yearlong investigation be closed and that no charges be brought against any individuals within the scope of the investigation," Lynch said.
The probe's conclusion won't stop the issue from being used against the presumptive Democratic nominee in the presidential campaign. Comey on Tuesday gave Clinton's critics plenty of fuel, saying there was evidence that she and her staff were "extremely careless in their handling of very sensitive, highly classified information." He also contradicted a number of Clinton's claims about how official communications were handled.
Lynch Testifying
Even so, Comey said the bureau's investigation didn't find that Clinton or her aides intentionally mishandled classified information and that "no reasonable prosecutor would bring such a case."
Key congressional Republicans said they were baffled by the decision not to prosecute Clinton or her aides. Comey has been called to testify Thursday before the House Oversight and Government Reform Committee. Lynch is scheduled to appear before the House Judiciary Committee on July 12.
Presumed Republican presidential nominee Donald Trump and other Republicans have already started using the FBI's findings as a political weapon. On Wednesday, after the U.S. decision was announced, Trump intensified his line of attack, suggesting that the former secretary of state would reappoint Lynch if she was cleared of charges and won the presidency.
"It's bribery," the billionaire said at a rally in Cincinnati. "Boy, was that a fast determination."
Clinton Campaign
Clinton's campaign had no immediate comment. On Tuesday, it portrayed Comey's recommendation as vindication. "We are pleased that the career officials handling this case have determined that no further action by the department is appropriate," spokesman Brian Fallon said in an e-mailed statement. "As the secretary has long said, it was a mistake to use her personal e-mail, and she would not do it again."
The FBI found that of the more than 30,000 e-mails turned over by Clinton, some 110 e-mails spanning 52 chains contained information that was classified at the time it was sent, Comey said. Of those chains, eight contained information classified at the Top Secret level.
Comey said the bureau also found "several thousand" work-related e-mails that weren't turned over by Clinton's lawyers. Those messages, discovered by searching through a computer she used as a server and scanning the archives of other U.S. officials, included an additional three containing classified material.
'Hostile Actors'
The FBI didn't find direct evidence that Clinton's e-mail system was hacked successfully. However, Comey said that "we do assess that hostile actors gained access to the private commercial e-mail accounts of people with whom Secretary Clinton was in regular contact from her personal account."
Comey said "any reasonable person in Secretary Clinton's position, or in the position of those government employees with whom she was corresponding about these matters," should have known that an unclassified system was no place for discussing classified matters.
After the existence of Clinton's private e-mail system was disclosed by the Associated Press and New York Times in March 2015, she and her staff maintained that they followed appropriate practices in dealing with classified materials. In March of this year, Clinton said she didn't have to ask permission from anyone to use the server because "it was permitted."
Not true, according to a State Department Inspector General's report. The department's internal watchdog found that Clinton's use of the e-mail system should have been vetted by the department's bureaus for diplomatic security and information resource management -- and that they wouldn't have approved.
Before it's here, it's on the Bloomberg Terminal.
LEARN MORE