business
Beijing Agrees to Report Detentions of Hong Kong Suspects Faster
By
Police to detail claims within 14 days after bookseller saga

Disappearances had fanned concerns about city's autonomy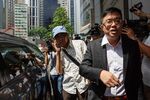 Hong Kong Chief Executive Leung Chun-ying said mainland Chinese officials have agreed to report detentions of the city's residents within two weeks, as the government seeks to calm concerns raised by the months-long booksellers saga.
The two sides would in the future summarize the nature of allegations against residents held in either jurisdiction within 14 days, Leung told reporters Wednesday, after Hong Kong officials returned from a meeting in Beijing. They planned additional talks later this month to discuss greater law enforcement communication.
The disappearance last year of five booksellers who sold books critical of the Communist Party stoked concerns about China's encroachment on the autonomy guaranteed to Hong Kong after the U.K. returned the city to China in 1997. The cases garnered international attention in part because two of the men held foreign passports and were reported missing from Hong Kong and Thailand, drawing allegations of kidnapping.
Leung petitioned Beijing last month, after another of the booksellers, Lam Wing-kee, returned to Hong Kong and spoke out about being detained, blindfolded and whisked to the eastern city of Ningbo. The Ningbo Public Security Bureau said Tuesday that Lam had violated the conditions of his bail by not returning, Hong Kong's Ming Pao newspaper reported.
For more on the push for greater autonomy in Hong Kong, click here
A video provided by the Ministry of Public Security and shown to Hong Kong reporters Tuesday showed Lam admitting to smuggling banned books into the mainland, according to the South China Morning Post newspaper. Lam has said he was detained while on the way to visit his girlfriend.
Hong Kong Security Secretary Lai Tung-kwok said Wednesday that there was "no legal arrangement for the transfer of persons to the mainland," which has no extradition treaty with the city. "The Hong Kong government will handle all cases in accordance with the law of Hong Kong," Lai said.
The 14-day time-frame builds on a 2001 deal in which the Hong Kong Police and the mainland security authorities agreed to notify each other whenever they held a resident from the other jurisdiction.
Since his return, Lam has complained about being followed, and he cited concerns about his safety before withdrawing from a pro-democracy march Friday. Lai said police found that one car Lam had suspected of tailing him belonged to a media organization.
"We will be in contact with Mr. Lam," acting Hong Kong Police Commissioner Wong Chi-hung said Wednesday. "We will reassess the risk that he's facing, if there's any, and then we will provide suitable measures to counter those so-called risks."
Before it's here, it's on the Bloomberg Terminal.
LEARN MORE