Barclays Traders Face Unwanted Benchmark on Prison Sentences
by
Four convicted ex-Barclays traders will be sentenced Thursday

Ex-trader Tom Hayes was jailed for 11 years over Libor-rigging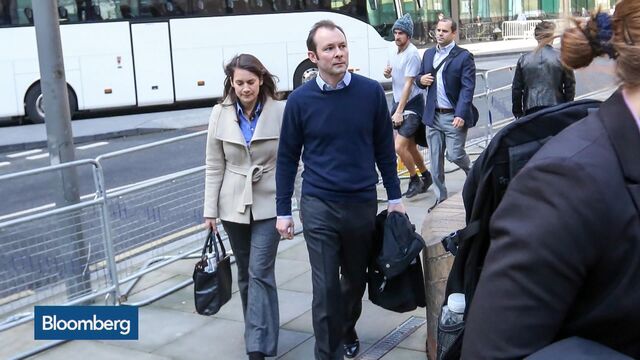 As the four former Barclays Plc traders convicted of rigging Libor await sentencing this week, a new type of benchmark set by Tom Hayes may haunt them.
QuickTake How Bankers Fiddled Benchmarks
The sentencing hearing for Jonathan Mathew, 35, Jay Merchant, 45, and Alex Pabon, 38, started Wednesday after the men were found guilty of conspiring to manipulate the London interbank offered rate by a jury last week. Former colleague Peter Johnson, 61, was also in the dock after pleading guilty in 2014.


Hayes, the former UBS Group AG trader who was the first man convicted of rigging the key rate tied to trillions of dollars in securities and loans, was sentenced last year to 14 years in prison. Even when an appeals court cut the term by three years in December, it warned that behavior of this kind "will result in severe sentences of considerable length."
"There has previously been a clear message from the courts that financial markets crime is seen in the same light as any other type of crime," said Simon Hart, a lawyer at RPC in London. "While there are fewer precedents, as we saw with the Hayes trial, we would expect the court's attitude to the sentencing of these individuals to be robust."
The traders' hearing comes amid a crackdown on white-collar crime that was triggered by the financial crisis. In May, a London court meted out the longest-ever U.K. sentence for insider trading, with a 4 1/2-year term handed to a former Deutsche Bank AG managing director. Last year, hedge fund founder Magnus Peterson was sentenced to 13 years in jail for fraud.
Not 'Victimless Crimes'
"There is a recognition these are not victimless crimes even when the losses are less tangible," said Neil Saunders, a U.K. criminal trial lawyer. "These kinds of behavior can have a real impact on both people's pension pots, as well as the reputation of London as a financial center."

While the traders face a maximum of 10 years in prison, it's unlikely they would receive that much, according to lawyers. The judge must consider, among other things, whether the individuals had a leading role and breached their duty of trust, according to a copy of the sentencing guidelines.
Johnson should have about one third shaved off his sentence for pleading guilty.
Imminent Birth
Lawyers for the men at Wednesday's hearing tried to distance their clients from Hayes, who became a poster boy for bad bankers and the financial crisis during his trial a year ago. Johnson's attorney said that, unlike Hayes, Johnson wasn't an instigator of Libor rigging.
"He did not play the leading role, or a leading role, because he did not orchestrate it," Johnson's trial lawyer, Hugo Keith, told the court. "It would seem that this was about fitting in."
Family for the defendants looked despondent as they watched from the public gallery. The judge was told about personal details, including the imminent birth of Merchant's second child, as well as the hardships endured while the men waited for trial.
The U.K. penalties have been much harsher than those related to Libor in the U.S. Two British men who worked at Rabobank Groep received one- and two-year sentences from a court in New York, which they're appealing.
Before it's here, it's on the Bloomberg Terminal.
LEARN MORE