Williams Says 2016 Fed Rate Hike Warranted If His Forecast Met
by
San Francisco Fed chief says Brexit risk is relatively modest

Brexit poses less risk than China turmoil at start of 2016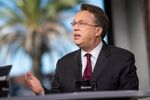 Federal Reserve Bank of San Francisco President John Williams said Britain's vote to exit the European Union probably won't derail the U.S. economy, leaving the Fed scope to raise interest rates this year if his growth and inflation expectations are met.
"I would see the Brexit, as it's played out so far, as being a relatively modest risk to the U.S. outlook," Williams said in a telephone interview on Tuesday, explaining that the move may lower economic growth for the year by about a tenth of a percentage point to just under 2 percent.
Williams, who next votes on policy in 2018, said he still expects unemployment to drop to 4.5 percent this year and for inflation to continue moving up. If that outlook comes to fruition, a rate hike would be appropriate this year, though he declined to "get into projections about when and what."
Williams' comments come as global markets continue to digest Britain's June 23 decision to exit the EU and the political fallout that has ensued. Fed officials have made it clear that global events shape U.S. monetary policy decisions, after the central bank held off on rate increases late last year and early in 2016 while China's growth and currency policy clouded the outlook.
"The concerns about China and Asia in general last year and earlier this year were much more significant" in terms of the Fed's ability to meet its goals, Williams said. "It's hard to measure uncertainty -- you're comparing apples to oranges. But at the same time, when I think about some of the worries about Asia, I could see the downside risks affecting our achievement of our goals and therefore our policy path more directly than the Brexit issues."
Minutes from the Fed's June 14-15 meeting are scheduled to be released Wednesday in Washington. While those may show how policy makers viewed the threat of Brexit ahead of the vote, many pundits and market participants didn't expect the U.K. citizens to actually decide to leave the union at the time of the Fed meeting.
While Britain's move surprised and roiled financial markets, Williams noted that the country does not make up a huge portion of U.S. trade, which will limit direct economic consequences from a slump in the U.K.
Williams said U.S. monetary policy is currently cautious, and if growth persists despite global risks, that stance needs to change.
'Cautious Approach'
"If the data come in strong, or come in consistent with my outlook, that would argue to step away somewhat from that more cautious approach," Williams said. "Being cautious forever would just lead us to need to raise rates much more aggressively in the future, and I think that could have some potentially negative consequences."
Williams brushed off a weak May employment report, saying that weather could have made the jobs reports early in the year look overly strong while exaggerating the slump in recent months.
"There's no question that there's been some slowdown in job growth, relative to the very rapid pace of growth we saw in 2014 and 2015, but that's not so surprising," he said. "This is an economy that's basically at full employment."
The Labor Department will release its June payrolls report on Friday.
Before it's here, it's on the Bloomberg Terminal.
LEARN MORE