Solar-Powered Spacecraft Juno Enters Jupiter Orbit
THE ASSOCIATED PRESS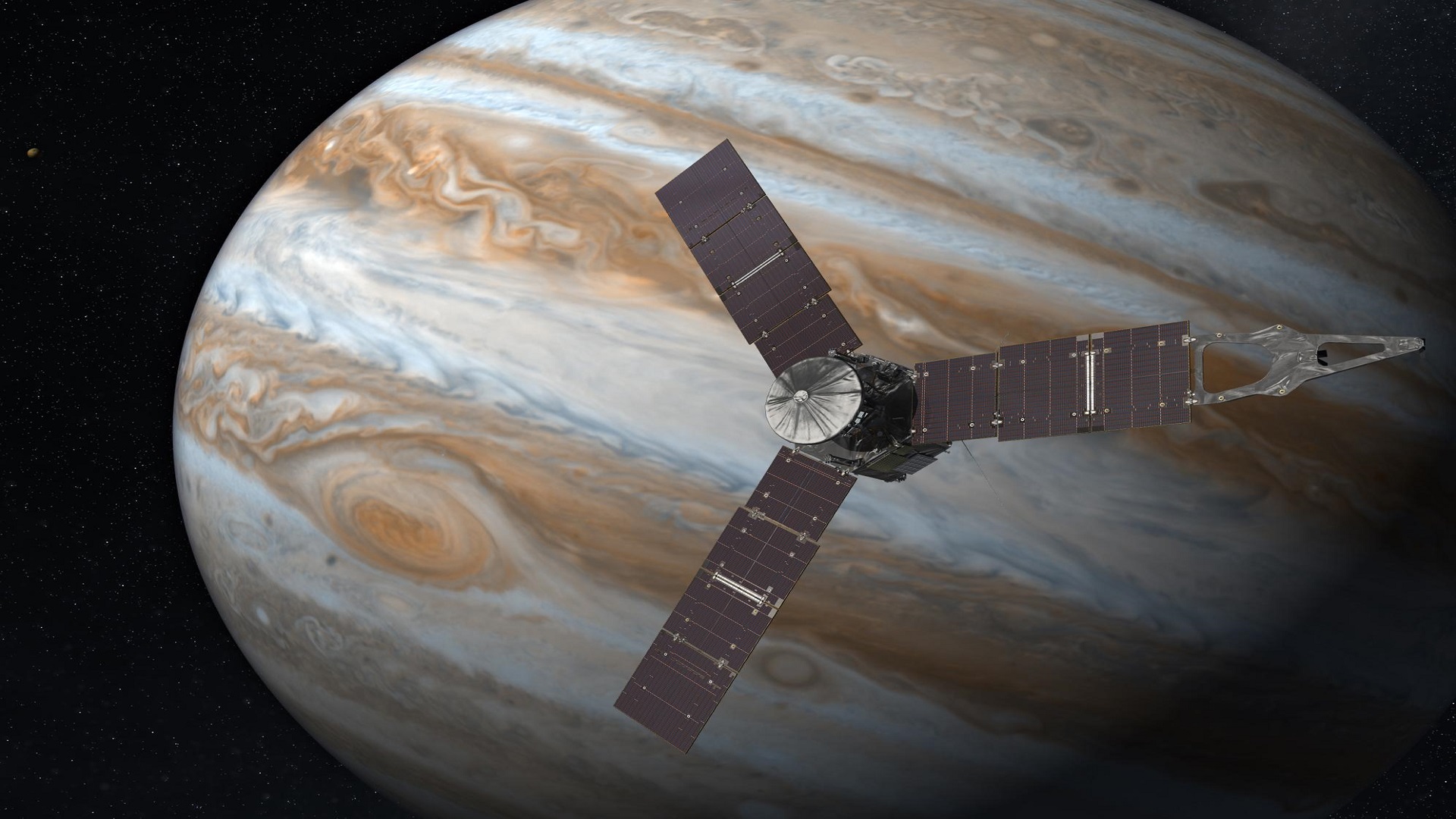 Pasadena, Calif. (AP) -- The Latest on NASA's mission to Jupiter (all times local):
8:52 p.m.
A solar-powered spacecraft is circling Jupiter on a mission to map the giant planet from the inside out.
NASA mission control received a radio signal Monday night from the Juno spacecraft confirming that it's in orbit around the biggest planet in the solar system.
Because Juno's camera and other instruments were turned off during the highly anticipated arrival, there won't be pictures of the key moment.
The trip took nearly five years and 1.8 billion miles (2.8 billion kilometers). Juno is the first spacecraft to venture so far from Earth powered by the sun.
It'll spend 20 months circling Jupiter's poles, peering through thick clouds and studying the planet's gravity and magnetic fields.
8:18 p.m.
A NASA spacecraft has begun firing its rocket motor in preparation for its arrival at Jupiter.
The space agency said Monday the engine burn is expected to last about half an hour. It's designed to slow the Juno spacecraft down so that it can slip into orbit around the giant planet.
Mission controllers can't send any commands during this key moment because Juno is on autopilot. Its camera and other instruments were also powered off as a precaution.
Juno traveled nearly five years and 1.8 billion miles (2.8 billion kilometers) to the outer solar system. Its goal is to peek behind Jupiter's swirling clouds and explore its gravity and magnetic fields.
___
11:35 a.m.
After a nearly five-year journey, a solar-powered spacecraft is passing Jupiter's inner moons as it readies for the closest encounter with the biggest planet in the solar system.
NASA's Juno spacecraft will fire its main rocket engine late Monday to slow itself down from a speed of 150,000 mph (250,000 kph) and slip into orbit around Jupiter.
Juno chief scientist Scott Bolton said at a morning briefing that the spacecraft is expected to survive rings of debris and a hostile radiation environment because it's "built like an armored tank."
NASA released a series of images taken last week during the approach, showing the destination planet glowing yellow in the distance, circled by its four inner moons.
Scientists have promised close-up views of Jupiter when Juno skims the cloud tops during the 20-month, $1.1 billion mission.
Before it's here, it's on the Bloomberg Terminal.
LEARN MORE