U.S. Stocks Slip as Investors Refocus on Global Growth Outlook
By and
Energy shares, banks pace slide after S&P 500's four-day gain

Equities backtrack after nearly erasing post-Brexit selloff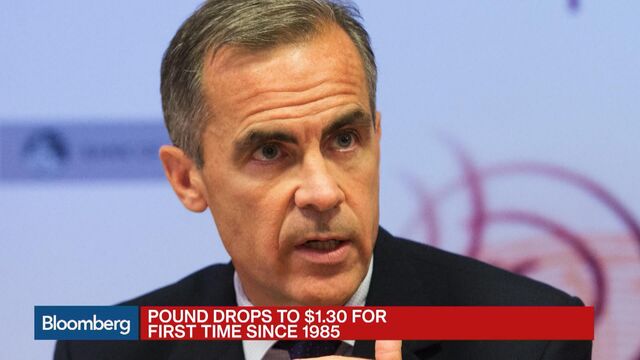 Commodity producers and lenders led U.S. stocks lower, as the S&P 500 Index snapped its longest winning streak in three months, after comments from Bank of England Governor Mark Carney rekindled concerns that Britain's exit from the European Union will further weigh on tepid global growth.
Energy and financial shares were among the biggest losers Tuesday, with investors showing a preference for havens as equity declines and higher volatility reflected some of the anxiety seen during the two-day selloff following the Brexit vote. The BOE's Carney warned of prospects for "a material slowing of the economy," amid developing risks from the decision to leave the EU.
The S&P 500 fell 0.7 percent to 2,088.55 at 4 p.m. in New York, its first retreat in five sessions. The gauge dropped as much as 1.1 percent before trimming losses in the final hour of trading. The Dow Jones Industrial Average lost 108.75 points, or 0.6 percent, to 17,840.62. The Nasdaq Composite Index decreased 0.8 percent, and the Russell 2000 Index of small caps dropped 1.5 percent. About 6.9 billion shares traded hands on U.S. exchanges, 4 percent below the three-month average.
"The factors driving the market today are fears of financial contagion coming out of European banks, the drop in oil prices and currency weakness," said Michael Sheldon, chief investment officer of Northstar Wealth Partners, which oversees $1.1 billion in West Hartford, Connecticut. "Investors came back after the long weekend and decided that maybe the run-up in prices following Brexit may have been overdone to the upside."

Equities pulled back after capping on Friday their strongest weekly advance since November, spurred by assurances that central bankers are prepared to loosen monetary policy to counter fallout from the Brexit vote. Investors sense of relief tempered today amid concern over the health of the global economy, and whether efforts by policy makers will be enough to bolster growth.
ConocoPhillips fell 4.2 percent, with West Texas Intermediate crude futures dropping 4.9 percent, while miner Freeport-McMoRan Inc. slid 7.5 percent. Banks retreated for a second session, with JPMorgan Chase & Co. and Goldman Sachs Group Inc. slumping at least 2.5 percent. Boeing Co. and United Technologies Corp. lost more than 2 percent to help drag industrials lower for the first time in five days.
While the U.S. market was shut on Monday in observance of Independence Day, European stocks dropped, and the MSCI All-Country World Index slid on Tuesday for the first time in more than a week amid a retreat in commodities.
VIX Climbs
The S&P 500's four-day rebound last week nearly wiped out losses stemming from the U.K. vote. The index had climbed within 1 percent of record just before the referendum's result, and then lost 5.3 percent in its worst two-day rout in 10 months. With Tuesday's declines, a measure of turbulence bounced after its biggest-ever weekly drop.
The CBOE Volatility Index rose 5.5 percent to 15.58, paring a nearly 13 percent jump, after the gauge known as the VIX tumbled 43 percent last week. It also snapped its longest stretch of declines in two months.
"The market should not have rebounded, in our view, the way it did last week in the aftermath of Brexit," said Phil Orlando, who helps oversee $360 billion as chief equity-market strategist at Federated Investors Inc. in New York. "What we saw in the last four days was a reversal of the normal knee-jerk reaction. The market is just saying, 'June 23 didn't exist, everything is back to normal and we're just going to ignore all of the economic repercussions.' I think that's foolish."
Earnings Loom
Investors also face a looming earnings reporting season, which gets underway next week, with analysts predicting a decline of 5.4 percent for companies in the S&P 500. That would mark a fifth-straight quarterly drop, the longest streak since 2009. Weaker-than-forecast results in the first three months of the year from tech giants including Microsoft Corp. and Apple Inc. had a hand in halting a rally in April as the S&P 500 neared its all-time high.
Since the Brexit vote, traders have pushed back their bets for a Federal Reserve interest-rate increase, pricing in a less than 40 percent chance of higher borrowing costs before 2018. Fed Bank of New York President William Dudley said today "it's still really early days to understand what kind of consequences" of the referendum.
Separately, San Francisco Fed's John Williams said the U.K.'s decision probably won't derail the U.S. economy, leaving the Fed scope to raise rates this year if his growth and inflation expectations are met.
"People are concerned about global growth," said John Plassard, a senior equity-sales trader at Mirabaud Securities in Geneva, which oversees 34 billion Swiss francs ($35 billion) in assets. "We have the Brexit problem, the general growth and U.S. isn't in an excellent shape either."
Eight of the S&P 500's 10 main industries fell, led by a 1.9 percent slump for energy stocks and declines of at least 1.5 percent for financials and raw materials. Investors sought refuge in groups considered defensive in nature, as utilities and consumer staples rose at least 0.5 percent.
Energy, Materials
Energy companies snapped a four-day rally, slumping as oil prices fell on signs of ample stockpiles. Southwestern Energy Co. tumbled 10 percent, while Chesapeake Energy Corp. and Murphy Oil Corp. slipped at least 6.3 percent. Among raw-materials shares, Alcoa Inc. dropped 3 percent and Dow Chemical Co. declined 1.6 percent.
Financials stocks sank for a second straight session, falling 1.5 percent. Banks led the selloff, as the KBW Bank Index tumbled 2.9 percent, with declines of at least 4.1 percent for Zions Bancorporation and SVB Financial Group. CBRE Group Inc. fell 5.4 percent to the lowest level since February, bringing its three-day decline to 7.4 percent.
Automakers and parts suppliers tumbled after their strongest four days since March. Harley-Davidson Inc. plunged 11 percent on skepticism over takeover rumors that sent the shares on Friday soaring 20 percent, the most in seven years. Ford Motor Co. and General Motors Co. declined more than 2.4 percent Tuesday.
Consumer staples stocks gained 0.5 percent to the highest ever, for the group's fourth rally in five sessions. Clorox Co. and Dr. Pepper Snapple Group Inc. rose more than 1.5 percent to all-time highs. Kroger Co. added 2.1 percent and Altria Group Inc. rallied for a third consecutive session to a record, increasing 0.9 percent. Procter & Gamble Co. extended its longest winning streak since March, rising 0.8 percent.
Utilities rose 0.7 percent to an all-time high, as Consolidated Edison Inc., WEC Energy Group Inc. and Pinnacle West Capital Corp. advanced at least 1.1 percent to records. The group is coming off its best week of performance since March 2015.