U.K. Tory Leadsom Backed by One Person She's Worked With
by and
No former committee colleagues among 41 declared supporters

MP's office calls lack of co-workers' support insignificant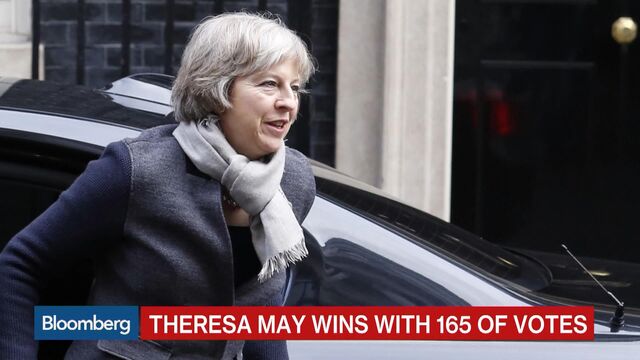 Andrea Leadsom, one of three Conservative Party lawmakers left seeking to become the U.K.'s next prime minister, has the declared support of just one person who has worked with her in any of her three official roles since entering Parliament.
Leadsom was first elected in 2010 and joined the Treasury Committee that year, serving for four years until Prime Minister David Cameron appointed her Economic Secretary at the Treasury. After the 2015 general election, she was moved to the Department for Energy and Climate Change as a minister of state.
From all the people who worked with her in those jobs, just one appears in the ConservativeHome list of Leadsom's 41 backers: Sheryll Murray, her Parliamentary Private Secretary. Her current boss, Energy Secretary Amber Rudd, is backing Home Secretary Theresa May.
"That's not the feedback I've had," Leadsom replied when asked at her leadership campaign launch on Monday why Treasury officials have privately described her as the worst minister they'd ever seen. She also urged her critics to come and talk to her.
Insignificant
Leadsom has the support of many colleagues and the lack of backing among people who had worked closely with her is insignificant, her office said.
Leadsom does have the backing of lawmaker Chris Heaton-Harris, who ran the Fresh Start group of Tories pushing for European Union reform with her. She has also picked up the support of many of those Conservative lawmakers who backed leaving the EU and who sided with Boris Johnson before he abandoned his leadership bid.
"She's definitely got strong opinions and she's definitely got leadership qualities," Heaton-Harris said in an interview. "Sometimes people might find that uncomfortable. But at a time when our country needs a strong leader, she's shaping up to that role."
Leadsom came second in the first round of voting among lawmakers Tuesday, with 66 votes. May was in first place, with 165 votes. Justice Secretary Michael Gove got 48, Pensions Secretary Stephen Crabb 34 and former Defence Secretary Liam Fox 16. As the last-placed candidate, Fox was eliminated from the contest and Crabb dropped out. Both endorsed May. The next round of voting is on Thursday.
Nadine Dorries, another Leadsom supporter, said people weren't publicly declaring for the energy minister because they were being influenced by the Chancellor of the Exchequer. "They are all George Osborne's cronies, in his back pocket," she said.
Before it's here, it's on the Bloomberg Terminal.
LEARN MORE