U.K. Banks Can't Pump Capital Relief Into Dividends, Carney Says
by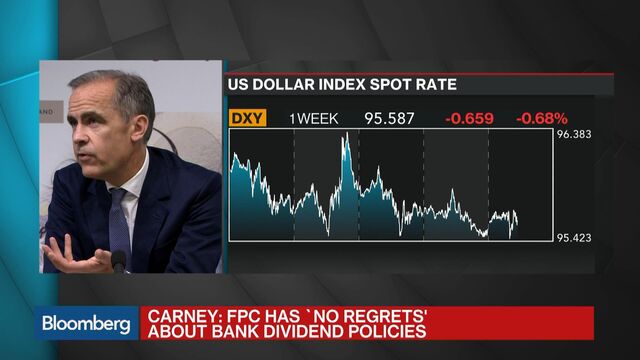 U.K. banks won't be allowed to channel capital relief granted as part of the Bank of England's Brexit response into dividends for beleaguered investors, Governor Mark Carney said.
The BOE's Financial Policy Committee on Tuesday lowered the countercyclical capital buffer rate for U.K. exposures to zero from 0.5 percent of risk-weighted assets. That reduced regulatory buffers by 5.7 billion pounds ($7.5 billion), according to the central bank.
The Prudential Regulation Authority, part of the BOE, "will ensure that no bank increases dividends or distributions to shareholders as a result of this action," Carney told reporters in London.
The countercyclical capital buffer is intended to counteract banks' tendency to boost lending in boom times, fueling expansions, and to slash it during busts, exacerbating slowdowns. It's designed to smooth peaks and troughs by ensuring banks build capital up when credit is growing so it's available to support the economy in stressed periods.
In addition to capital relief, lowering the countercyclical buffer requirement reduces the risk of a U.K. bank being forced to stop payment of dividends, bonuses or coupons on additional Tier 1 debt. EU law sets limits on such payments as banks eat into capital buffers, to guarantee struggling institutions conserve capital to regain a solid footing.
No Regrets
Carney said he had "no regrets" about bank dividend policies in recent years in light of the current market turmoil. While most U.K. stocks have rebounded from their immediate post-Brexit slump, shares of three of the nation's largest lenders have slid more than 25 percent.
"Our view is that the banks are in a position where they have more capital than they need for the economic environment that they're in and that they will be in over the course of the next few years," Carney said.
Tuesday's decision came just over three months after the policy committee raised the countercyclical buffer to 0.5 percent, with the intention to set it at about 1 percent in a "standard risk environment." The increase was to become binding in March 2017.
The PRA had planned to lower another supervisory buffer by the same amount where possible as it phased in the countercyclical requirement. It moved forward that relief at the recommendation of the policy committee.
"This means that three quarters of banks, accounting for 90 percent of the stock of U.K. economy lending, will, with immediate effect, have greater flexibility to maintain their supply of credit to the real economy," the BOE said. "Other banks will no longer see their regulatory capital buffers increase over the next nine months, increasing their capacity to lend to U.K. households and businesses, too."
Before it's here, it's on the Bloomberg Terminal.
LEARN MORE