Turnbull's Coalition Edges Ahead as Election Count Continues
by
Still unclear whether Turnbull will secure a majority

PM may have to rely on independents to help form government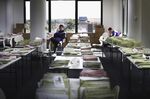 Prime Minister Malcolm Turnbull's Liberal-National coalition has nudged ahead of the opposition Labor party as vote counting continues from the weekend election, although it remains unclear whether it will gain enough seats to form a majority government.
The coalition has won 72 seats in the 150-member lower house to Labor's 66, according to a projection by the Australian Broadcasting Corp. with 81 percent of the vote counted. Independents and minor parties won five and seven districts were still in doubt, Turnbull needs 76 seats to form a majority government.
The nation faces days of political paralysis after the weekend election failed to produce a clear winner. Turnbull has said he is confident of securing a majority, though has begun talks with independent lawmakers and minor parties in case he is forced to form a minority government.
To learn more about the independents who may be kingmakers, click here.
Lacking a strong mandate, whoever leads Australia could be hamstrung in efforts to revitalize the world's 12th-largest economy. Rating agencies have warned Australia's top credit score may be at risk unless the budget deficit is reined in by the eventual winner.
The ABC's election analyst Antony Green predicts the coalition will definitely get 73 seats, though it remains unclear whether it will reach 76, the broadcaster reported.
Before it's here, it's on the Bloomberg Terminal.
LEARN MORE