Simons's Renaissance Technologies Equity Fund Rose 4.6% in June
by
Renaissance Institutional Equities Fund up 13.8% in first half

Fund joins computer-driven strategies that outperformed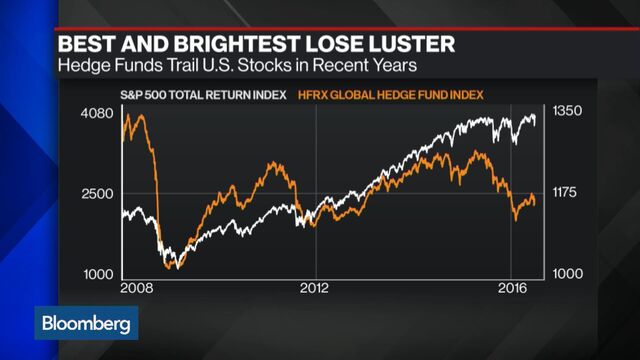 James Simons's $32 billion Renaissance Technologies saw its quantitative equity hedge fund gain in June as the Brexit vote roiled markets, adding to the outperformance of computer-driven strategies.
The Renaissance Institutional Equities Fund was up 4.6 percent last month, and 13.8 percent for the first half of the year, according to a person familiar with the matter who asked not to be named because the information is private. The fund, which began in 2005, only trades U.S.-listed equities and is biased toward stocks its model expects to rise.
Quant firms like Renaissance have been better able to navigate the turbulence from the U.K. vote to leave the European Union, which wiped away trillions from equity markets. Lynx Asset Management, which uses mathematical models to decide when and which securities to buy and sell, posted a 5.1 percent gain on June 24, a day after the Brexit vote, in one of its funds, according to its website.
Hedge funds overall were flat for June and rose 0.8 percent for the year, according to the HFRX Global Hedge Fund Index.
For more on hedge fund performance in the first half, click here
Simons's other funds have also prospered. Renaissance Institutional Diversified Alpha Fund rose 6.6 percent last month, bringing returns for the first half to 11.3 percent, according to another person with knowledge of the matter.
The firm's newest pool, the Renaissance Institutional Diversified Global Equities Fund, gained 5.3 percent in June, the person said. It launched with $1.5 billion on April 1 after investors requested a market neutral equity stock fund. It has returned 1.7 percent this year.
Jonathan Gasthalter, a spokesman for the firm, declined to comment on the performance.
Simons, 78, a mathematician and former military code-breaker, pioneered the use of computer-driven hedge funds that use mathematical and statistical algorithms to create investment strategies. He formed Renaissance in 1982.
Before it's here, it's on the Bloomberg Terminal.
LEARN MORE