Photographer: Anadolu Agency/Getty Images
The U.K. and Europe can't exactly go their own ways once their divorce is finalized. On trade, customs, defense and the global flow of capital, the European Union and its cross-channel neighbor will continue doing business after Brexit. The question is, how?
1. Is there a road map for Brexit?
Not really, since no country has left the EU before. No one even knows when the U.K. will trigger the two-year negotiating period, with the British political class embroiled in post-referendum convulsions. The EU's dealings with three non-member nations -- Norway, Canada and Switzerland -- are seen at the moment as possible models, with no guarantee that any could satisfy both sides.
2. What do those models look like?

Like Norway, the U.K. could pay the EU to be part of the European Economic Area, remaining in the single market but losing any say in the way it works.
Like Switzerland, the U.K. could try to strike a free-trade agreement and scores of subject-specific accords with the EU, a drawn-out process that in Switzerland's case does not cover financial services.
Like Canada, the U.K. could seek a trade agreement with the EU that would eliminate most tariffs but may not maintain the so-called passporting rights that make London a financial capital.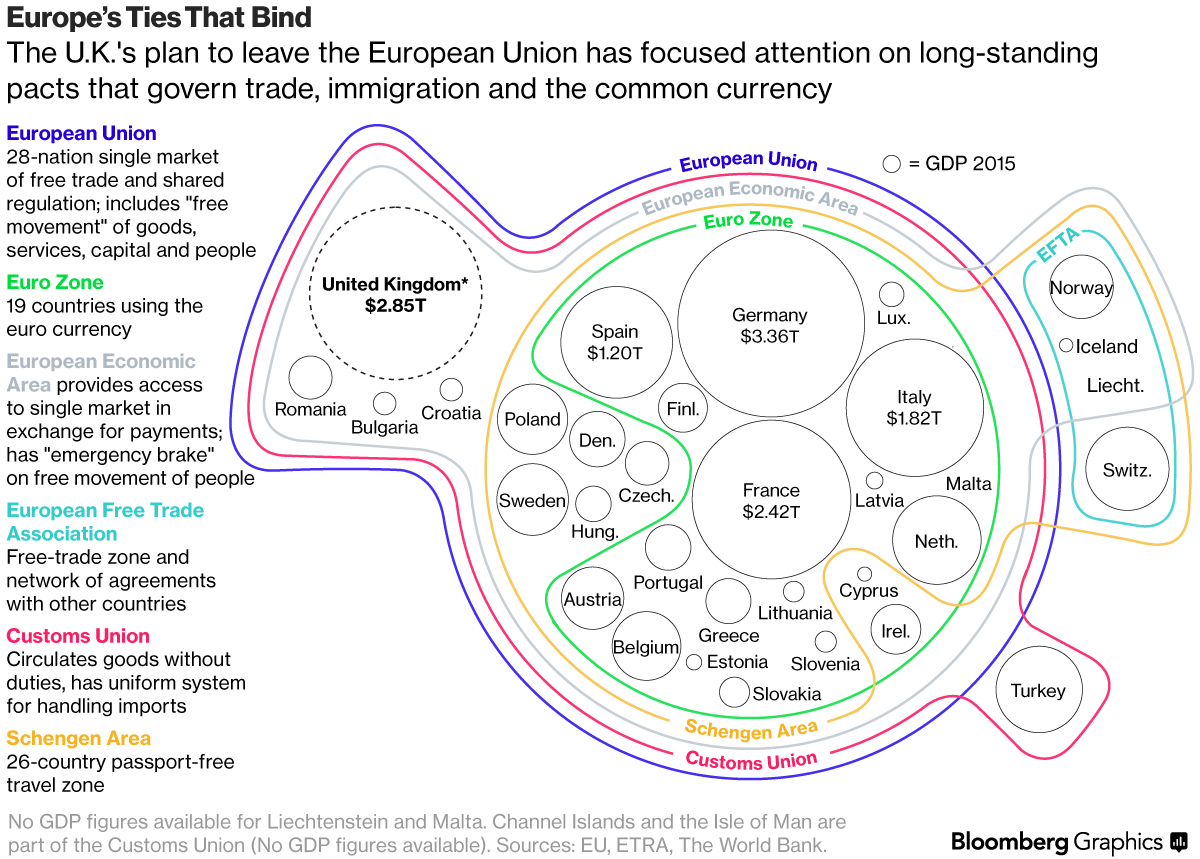 3. Which model would give the U.K. control of immigration?
Canada's comes closest. Its Comprehensive Economic and Trade Agreement with the EU focuses on free movement of goods and services, not of people or capital. But CETA took seven years of negotiations, is still awaiting final approval, and is tailored for a nation that's an entire ocean away from Europe. 
4. Why is immigration so important?
Popular anger over migrants, especially from Poland, helped drive the U.K.'s anti-EU vote. The EU insists that any nation that wants full access to its single market must permit free movement of workers -- one of the four freedoms of the Treaty on European Unity, along with movement of goods, services and capital. Norway and Switzerland accept free movement of EU citizens, though Norway can suspend the four freedoms temporarily in the case of "serious economic, societal or environmental difficulties." This "emergency brake" is something that anti-EU campaigners want for the U.K.
5. What other options are out there?
Two other possible routes for the U.K. -- dealing with the EU only through the World Trade Organization, or via a customs union like Turkey has -- would permit immigration limits but at the potential cost of tariffs and quotas on non-industrial goods and services.
6. What's likely to happen?
The Norway model (also employed by Iceland and Liechtenstein) is getting a lot of attention as a potential path for the U.K. But while that would preserve most economic ties, it would also retain many features of EU membership that the British people rejected, such as free movement of labor and paying into the European budget. That's the dilemma for policy makers.
The Reference Shelf
(
Corrects graphic in story that ran July 5.
)
Before it's here, it's on the Bloomberg Terminal.
LEARN MORE